THE SOCIAL NETWORK
You may have heard that a lot of critics, in their reviews of the film, have been comparing the Facebook saga The Social Network to Citizen Kane. So before this turns into one of those inaccurate, Al-Gore-says-he-invented-the-Internet sort of myths, let me clarify: They're saying that in terms of its storyline, themes, and protagonist, director David Fincher's and screenwriter Aaron Sorkin's movie is more than a bit reminiscent of Orson Welles' 1941 untouchable. No one, to my knowledge, is saying that The Social Network is as good as Citizen Kane.
Having said that, The Social Network is as good as Citizen Kane.
Okay, that's an overstatement, but I'm not sure how else to describe the dizzying, rapturous happiness I felt at the close of Fincher's and Sorkin's remarkable tragicomedy. I left not knowing if I wanted to see it again immediately, or if I wanted to rush home and share my excitement with all my friends ... preferably via Facebook. The Social Network is so teeming with pleasures - written, directorial, performance-based - that it's rather overwhelming. Yet the genius of the achievement, to my mind, lies in how much freaking fun it is; from the opening tavern sequence (one of cinema's all-time-great breakups) to the climactic image of a man sitting alone with his laptop, the film is grandly, madly entertaining, the rare ultra-smart work that never leaves you feeling stupid.
Fincher's and Sorkin's movie, inspired by the Ben Mezrich book The Accidental Billionaires, is a (somewhat or mostly, depending on the source) truthful account of the origins of Facebook, showing how an online prank initiated by Harvard student Mark Zuckerberg led to the development of the world's most popular and powerful social-networking tool. ("Social-networking tool" is also a pretty fair description of the film's Zuckerberg, whom Jesse Eisenberg portrays with an astounding blend of caginess, hostility, condescension, and wicked intelligence.) Vacillating between a chronological exploration of Facebook's creation and a separate pair of depositions - Zuckerberg is the defendant in civil suits filed against him by former best friend Eduardo Saverin (Andrew Garfield) and twin wannabe-entrepreneurs Cameron and Tyler Winklevoss (both played by Armie Hammer) - The Social Network features three running narratives, an intimidating wealth of information, and scenes that shouldn't be the least bit cinematic. Yet as if by magic, everything in it somehow coalesces into one seamless, profoundly enjoyable, and exceedingly cinematic, whole.
To be sure, much of the credit belongs to Sorkin - so much of it, in truth, that I found it perfectly understandable when my moviegoing companion later referred to the movie as "the Aaron Sorkin show." If, like me, you were a ravenous fan of TV's Sports Night and the early seasons of The West Wing, you couldn't mistake the writing here for the work of anyone else; so polished that it glows, The Social Network's dialogue blends screwball ebullience with beautifully layered exposition and frequently heart-stopping moments of insight. (Part of my yearning to see the film again lies with my craving to commit its best lines to memory. After one screening, my favorite thus far is uttered by Tyler Winklevoss, when contemplating a Zuckerberg ass-kicking: "I'm six-five, 220, and there's two of me.") Yet given no small measure of assistance by the topnotch editors Angus Wall and Kirk Baxter, Sorkin's narrative design is just as marvelous as the words that tumble from the characters' mouths. Every piece of information, among the film's trio of storylines, appears to be delivered exactly when it needs to be, and the chronological leapfrogging is never employed merely as a stylistic conceit. You want to applaud this screenplay.
But just as The Social Network is unquestionably an Aaron Sorkin movie, it's also every bit a David Fincher movie, and not just in the hypnotically drab, burnt-yellow and olive-green hues so familiar from Fight Club and The Curious Case of Benjamin Button. As is frequently the case (though not in Benjamin Button), Fincher proves himself a master at eliciting powerful, invigorating performances, most notably from Eisenberg, who fashions what is easily the most thrillingly unlikable protagonist the movies have given us in years. (After his half-hearted "I'm sorry" during the opening breakup scene, the closest Zuckerberg ever comes to apologizing to anyone in The Social Network occurs after he insults Saverin, takes a beat, and admits, "That was mean.") Everyone, though, appears to be working at peak ability here: Garfield, with his big-hearted friendliness and aching emotional honesty; Hammer, delineating his twins - as Zuckerberg calls them, "the Winklevi" - with brilliantly subtle brushstrokes; Justin Timberlake, as Napster founder Sean Parker, exuding such dynamic energy and reptilian charm that he threatens to walk off with the picture; Rooney Mara, fiercely sane and direct as the object of Zuckerberg's affections-slash-scorn.
And as with his previous masterpiece, Zodiac, Fincher manages to take what are fundamentally unexciting activities (thinking, typing, chatting around a boardroom table) and give them the same feverish, electric charge as the most hair-raising encounters in his Seven and The Game; The Social Network is a thriller for the mind, one that keeps you alert and engaged through the whole of its lightning-fast two hours. The movie is emotionally devastating and oftentimes bitingly funny - never more so than when the Winklevoss twins try, unsuccessfully, to convince Harvard's president (a perfect Douglas Urbanski) of their case against Zuckerberg - but best of all, it's continually fascinating; in this portrait of a young man who gains the world but (it's implied) loses whatever friends and soul he might possess, you feel not only the film, but your brain, buzzing with intense, exhilarating focus. I'd say I couldn't possibly love The Social Network more than I do, but it's a little early to make that assertion. Ask me again after five or six more viewings.
Author's note: After writing this review, I did see the movie again. It's even better on a second viewing. And my favorite line of dialogue remains the same, though it has a lot of competition.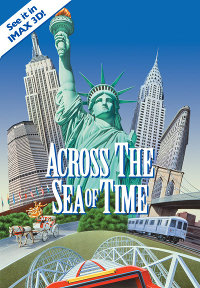 ACROSS THE SEA OF TIME 3D
Now playing at the Putnam Museum & IMAX Theatre, Across the Sea of Time 3D is a 50-minute documentary comparing the New York City of today with the New York City of roughly a century ago, a bit of edu-tainment time travel brought to life through evocative black-and-white photographs, a soaring John Barry score, and expected, enjoyably vertigo-inducing aerial pans and images from the tops of skyscrapers. ("America's no place for a photographer afraid of heights," explains the film's narrator. Nor are IMAX movies.) You'll get the standard, stilted awkwardness from the film's non-actor bit players and a healthy helping of IMAX corn - the narrative involves a Russian pre-teen searching through Manhattan for his émigré grandmother - but there's more than enough that's charming and lovely about director Stephen Low's outing to easily merit a visit, and that's not even including the movie's occasional, joyous, unapologetically gratuitous 3D diversions. (There's really no good reason for the film's POV shot from the front seat of a roller coaster, but hey, any excuse to ride a roller coaster at the IMAX is a good one.)
Yet I'm guessing that, for the adults in attendance, you'll leave Across the Sea of Time 3D feeling nothing so much as a sweeping sense of nostalgia - not for the early 1900s, but for 1995, when the movie was first released. It's impossible, of course, to look at the movie's Manhattan skyline - with the gleaming images of the Twin Towers center-screen - without a momentary tightening in the gut, but keep looking: at the amusing cameo by a jaunty Donald Trump; at the wonderfully talented Harry Groener and his Broadway showgirls in a musical number from Crazy for You; at the downtown sidewalks on which not one person, to my awareness, was speaking on a cell phone. For all of its visual grandeur, Across the Sea of Time 3D is a slight thing, but I'm betting I had a far better time at it than I would've had watching it 15 years ago, and for young audiences, the movie is almost unquestionably more educational now than it would've been then. Be prepared, after your kids see the neon glow of the film's Fuji billboard, to answer the question, "Mommy and Daddy, what are audio and video tapes?"