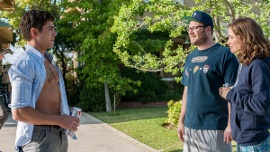 NEIGHBORS
Director Nicholas Stoller's Neighbors is being marketed as a slapstick sausage fest in which that eternal frat guy Seth Rogen, playing a beleaguered suburbanite, wages war against a houseful of more age-appropriate frat guys led by Zac Efron. That's why it's both unexpected and kind of awesome to find that this meandering, intermittently hilarious movie is actually stolen by a female - or two, if you count the voiceless, ridiculously adorable Elise Vargas as a grinning newborn who would melt the heart of W.C. Fields himself. Really, though, the film belongs to no one so much as Rose Byrne as Rogen's former-party-girl wife, and considering how riotous the performer was in Bridesmaids and Stoller's Get Him to the Greek, this probably isn't the surprise I'm making it out to be.
Neighbors concerns the battle royale that results when Rogen and Byrne initially befriend, and then plot exquisite revenge against, the incessantly noisy denizens of the fraternity house next door, and two days after seeing the movie, I can easily recall many of its biggest laughs. There are terrific coitus-interruptus gags and a Robert De Niro-themed party, and best buds Efron and Dave Franco have a great "bros before hos" scene of rhyming one-upmanship; there are wax-dildo routines and a horrifyingly broken leg, and a quartet of hysterical attacks by surreptitiously hidden automobile air bags. Yet I'm pretty sure I remember everything that Byrne does here. Whether failing at her attempt to say "Keep the noise down" in a casual manner, or setting up a mean-spirited liaison with bewitching wickedness, or merely singing a rude little ditty while holding her infant daughter, Byrne is never less than supremely confident and inventive, and is so naturally endearing that she even pulls off the movie's human-lactation pièce de résistance in a way that makes you cackle and empathize. Stoller's numerous man-children have plenty of opportunities to shine, but given slightly less to work with, Byrne actually delivers more. Rose before bros.
Enjoyable though most of Neighbors' anarchic mayhem is, I wish more attention were paid to the reality of the scenario (the frat guys' nightly partying 'til dawn doesn't bother any of their other neighbors?), and the movie starts spinning its wheels fairly early; by its climax, half of which is genially violent and half of which is just unpleasantly violent, you may find yourself longing for some suburban détante. But before all hell breaks loose, Andrew J. Cohen's and Brendan O'Brien's frequently savvy script makes some lovely points about growing up and the perceived perils of domestic bliss, and even in its more repetitive and time-killing sequences, sensational comics keep showing up to keep you amused, with Ike Barinholtz, Jerrod Carmichael, and Craig Roberts in especially fine form. Plus, although he's not particularly funny, Efron is at least genuinely game in Neighbors, and appears more than happy to be cast as the hunky lummox next door - a shirtless visual gag with scene-stealing abs. Says Rogen after he gets his first good look at Efron: "He's like something a gay guy designed in a lab." Finally, an explanation.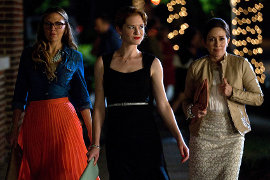 MOMS' NIGHT OUT
A faith-based slapstick comedy may also sound like something designed in a lab, and it's a noble experiment that doesn't quite succeed in Moms' Night Out, which details the "wacky" entanglements that ensue when a trio of stay-at-home mothers decide to paint the town red while their hapless and hopeless hubbies babysit the kids. All told, it's pretty lame; directing brothers Andrew and Jon Erwin get little comic mileage out of their relentless stereotyping, the generally charming lead Sarah Drew is forced into unplayable scenes of shrieking apoplexy, and the family-friendly jokes, as they perhaps had to be, are resoundingly toothless. (The Erwins also directed the 2011 Christian drama October Baby, which is about a sullen teen searching for her birth mother, and their latest is only slightly funnier than October Baby.)
Yet while I only laughed twice - and both times at seemingly improvised dialogue by grade-school-aged performer Shiloh Nelson - I did smile at Moms' Night Out far more often than I expected. Anjelah Johnson-Reyes is sensational as a tartly officious restaurant hostess while real-life husband Manwell Reyes, of the Christian hip-hop band Group 1 Crew, is enjoyable as a clearly out-of-it tattoo-parlor employee, and country singer Trace Adkins proves unexpectedly excellent as a hulking tattoo artist named Bones. (Adkins gets to deliver the requisite "trust in your faith" speech to Drew near the film's conclusion, and does so with such relaxed, deep-voiced sincerity that it makes perfect sense when the woman winds up in tears.) And just when the end credits are about to roll and you think the film's nominal surprises have reached their climax, out pops Patricia Heaton - in the role of a rigid pastor's wife - with some thoroughly impressive dance moves on the lane of a bowling alley. Moms' Night Out may be weak, but after watching 56-year-old Heaton boogie, it'd be hard to argue that the Erwins haven't made a solid argument for the existence of God.