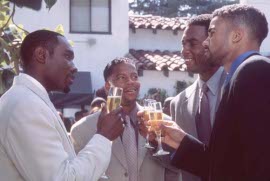 THE BROTHERS
The Brothers, the comedy-drama debut from writer-director Gary Hardwick, is a good-and-bad movie in which the good parts far surpass the bad, and that alone makes it one of the finer movies of the year.
Dealing with the exploits of four long-term pals and their relationships with the women in their lives, the film has an exuberance and wit that helps you glide over its clichés, and it's the rare male-oriented movie that gives its women plenty of breathing room. There's nothing revelatory in either its plotting or its execution - at this early stage, Hardwick is a better writer than director - but it's undeniably enjoyable; those who by nature bypass movies with African-American casts will truly be missing out.
At the start of the film, confirmed bachelor Terry (Shemar Moore) announces his impending wedding, which makes the others in his circle question their own lives and romantic entanglements. Jackson (Morris Chestnut), a successful pediatrician, wants to develop a deeper commitment with his girlfriend, Denise (Gabrielle Union), but is hindered by a revealed secret from her past; Derrick (D.L. Hughley), moderately happy in his own marriage to Sheila (Tamala Jones), can't get past her reluctance to engage in oral sex; lothario Brian (Bill Bellamy), high on booze and a succession of ladyfriends, finds commitment a joke and is (comically) punished for his refusal to grow up. Needless to say, The Brothers is more character-driven than story-driven, and given the strong parade of characters Hardwick has created, that's just fine for this debut feature.
Which is not to say that Hardwick has created original characters. Brian is a particularly weak link, his comic exploits predictable and formulaic, and Bellamy is, in general, more stand-up than actor; you catch him performing throughout the picture and it dulls your interest in him. But many of the film's actors transcend the obviousness of their roles - Hughley gets away with his borderline offensive subplot through sheer charisma - and one of them, Morris Chestnut, does even more that; he anchors the film with an impressive combination of understatement, humor, and sexiness. Chestnut has been a terrific presence in movies like Boys N the Hood and The Best Man, but The Brothers might finally be the one that makes him a star.
Best of all, and most surprising for a film entitled The Brothers, is the strong impact made by the female cast members. Gabrielle Union is enormously appealing - her role in last fall's Bring It On didn't hint at this kind of womanly strength and vulnerability - and we're also treated to the wonderful Marla Gibbs and the especially vibrant Jenifer Lewis. In films of this type, where men are slow to pick up on their own failings but more than ready to find them in others, we're used to seeing a series of putting-men-in-their-place diatribes; The Brothers doesn't shirk from this heady, predictable responsibility, but Hardwick writes some truly hysterical diatribes, and Lewis is a true live wire when delivering them. The movie never really amounts to much, but it actually does say a few things about how people live in this day and age, and does so while remaining spirited and funny. In a movie year that's shaping up to be even worse than the last - Lord help us - The Brothers is welcome relief.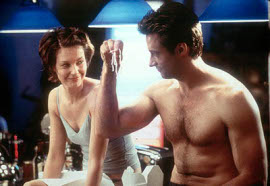 SOMEONE LIKE YOU
It just figures. You wait patiently for the gorgeous and talented Ashley Judd to get out of her action-stud-muffinette phase (in turkeys like Kiss the Girls, Eye of the Beholder, and the reprehensible Double Jeopardy) and land the lead in a romantic comedy; she finally does, and it winds up being the witless and charmless piece of piffle Someone Like You. If you've never before felt the head-swimming rush of déjà vu, I heartily recommend catching the film; even if you haven't yet seen it, you've seen it. (You probably remember the title, too. With the exception of the Bernard Slade adaptation Romantic Comedy, has there ever been a film of this type with a less inspired moniker?) Not that it matters, but here's the lowdown this time around: Judd plays the talent-booker for a TV talk show who, after one failed relationship too many, comes to the shocking realization that men are pigs. Or rather, she learns after reading a rather dubious-sounding newspaper article that men are bulls. And women are cows. And bulls, you see, never mate with the same cow twice. And that explains why men and women can never successfully cohabitate.
But guess what? (You're ahead of me already, aren't you?) She meets a bull (Hugh Jackman) who's rude and chauvinistic and a user of women, but who's kinda cute, and who might just be perfect for ... oh, who the hell cares? As I've underlined countless times in my reviews of countless goofy romantic comedies: Setup is nothing, chemistry is all. And in Someone Like You, the leads ain't got it. Jackman appears to be trying; he plays his macho-blowhard-with-the-gooey-center well enough (although his dry wit was a lot more fun as Wolverine in X-Men) and gives Judd appropriate smolder. But with crummy lines to deliver and nothing but a flighty dipstick to play, Judd comes across as desperate and graceless; she could be channeling Sandra Bullock in her lesser movies, and God knows that the one we have is enough. Despite how strenuously the script works at making them the ideal couple, the concept never gels, and director Tony Goldwyn, who made a lovely debut with A Walk on the Moon, has nothing fresh to bring to either the material of the performers. Even as pure throwaway entertainment, the movie is a dud.
Among the supporting players, Ellen Barkin and Marisa Tomei are pure stereotype - Barkin all phony TV sleaze and Tomei stuck with second-rate wisecracks and "heart." (Message to Marcia Gay Harden: Congratulations, but beware - look what's happened to Tomei less than a decade after her Best Supporting Actress win.) And as for Greg Kinnear, who plays Someone Like You's token good-guy-who-turns-into-the-bad-guy, give it a rest. You may have perfected the wolf-in-sheep's-clothing grin, but you perfected it about 10 films ago. Nowadays, when you make your first appearance onscreen, we know you're going to be a bastard.