MEGAMIND
Since Universal Pictures' fizzy, funny animated hit Despicable Me was released a mere four months ago, it's hardly possible that DreamWorks' new Megamind could be considered an intentional ripoff, despite a plot that also finds an über-villain gradually morphing into an über-hero. And despite the film's haughty, antagonistic protagonist performing his evil deeds alongside a goofy, tag-along minion. And despite this blobby little homunculus being named Minion. (Seriously, are there no fresh ideas in Hollywood?)
So what say we chalk this up to coincidence and enjoy director Tom McGrath's Megamind for what it is: a clever, quick-witted, and unexpectedly and awfully smart outing with marvelously vivid visuals and reams of hysterical dialogue. ("Good luck on your date!" shouts David Cross' peeved Minion to Will Ferrell's nefarious title character. "I will!" is the senseless reply.) Given the movie's predictable over-reliance on tired pop tunes for comic effect, it's still a bit DreamWorks-y for my tastes. But the vocal cast, which includes Tina Fey, Jonah Hill, Brad Pitt, and J.K. Simmons, provides spirited fun, and for every gag that sputters, three more pop just right. The climactic group dance-along to Michael Jackson's "Bad"? Pretty lame. Ferrell's Megamind disguising himself as Superman's Jor-El and telling his cape-wearing rival, with hilarious Marlon Brando inflections, "I am your fathuh, and you are my thun"? Pritheleth.
WAITING FOR "SUPERMAN"
You know that sensation you sometimes feel at a particularly moving film, when you find yourself tightening your stomach muscles to avoid sobbing out loud? I did that so frequently during Waiting for "Superman" that the movie was practically a lower-ab workout. Director Davis Guggenheim's expansive, informative, incensed-yet-level-headed documentary - a rallying cry for public-education reform in America - examines how our school systems are collectively failing our children, and given its admittedly one-sided perspective and the blame laid on our country's teachers' unions, it's sure to piss off many viewers. (Not all teachers, though, are likely to find the movie offensive. Just the bad ones.) But in its conversations with lauded educator Geoffrey Canada, recently resigned public-school chancellor Michelle Rhee, and others who've found surprising success in helping fix a seemingly unfixable system, Waiting for "Superman" is at least as inspiring as it is heartbreaking. And buoyed by touching interviews with five kids whose futures depend on their names being drawn in charter-school lotteries, the film is a smashingly entertaining real-life tear-jerker, even if some of its most amusing bits are also its most infuriating. "Research," says an on-screen figure, "shows that childrens do learn." Considering the person giving the grammatically incorrect quote is President George W. Bush, you don't know whether to laugh or scream.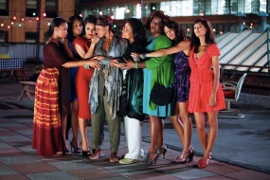 FOR COLORED GIRLS
Based on Ntozake Shange's theatrical tone poem For Colored Girls Who Have Considered Suicide / When the Rainbow Is Enuf, the simply titled For Colored Girls finds a group of interconnected black women dealing with, and giving lengthy monologues on, such topics as adultery, rape, incest, STDs, spousal abuse, abortion, and (dual) infanticide. I'd long presumed that the 1976 play was unfilmable, but given that horrific list, I suppose the material was destined to fall into Tyler Perry's hands. For the record, I think the movie's a mess. Adding characters, narratives, and typically clunky, prosaic dialogue, Perry, for understandable reason, can't sustain any kind of satisfying rhythm; his adaptation stumbles, lurches, and oftentimes flails. Having said that, I also think For Colored Girls is positively exhilarating, a harrowing yet glorious howl of pain and perseverance, and far and away the auteur's strongest screen work to date. You can chuckle at the film's portentousness, but you can't laugh at Shange's stunningly lyrical odes to female strength, and you certainly can't at Perry's generous, big-hearted direction of the astonishingly raw and soulful Kimberly Elise, Loretta Devine, Thandie Newton, Phylicia Rashad, Kerry Washington, Anika Noni Rose, Tessa Thompson, and - giving a way-better-than-expected performance - Janet Jackson. (Only Whoopi Goldberg, channeling Piper Laurie in Carrie, is mildly disappointing.) As is generally the case at my screenings of Perry movies, the packed, appreciative audience applauded at the end. For the very first time, I felt like joining them.
DUE DATE
A hyper-tense Robert Downey Jr. and an oblivious Zach Galifianakis travel from Atlanta to Los Angeles in director Todd Phillips' road-trip flick Due Date, and wind up delivering something unusual and not entirely welcome: a slapstick drama. Sure, there are plenty of (mostly unamusing) visual and verbal gags sprinkled throughout. But this is one of those rare films in which the actors' honesty is detrimental to their movie; Downey's anger and irritation are so forceful, and Galifianakis' sadness and childish confusion so sincere, that the formulaic jokes involving high-speed car crashes, misappropriated crematorium remains, and masturbating dogs feel even more crass, phony, and stupid than they otherwise might've. Due Date isn't terrible, just terribly misguided, and reveals itself as such early on by casting the expert scene-stealer Juliette Lewis as a skanky pot dealer and giving her absolutely nothing funny to say or do. Talk about a buzz kill.