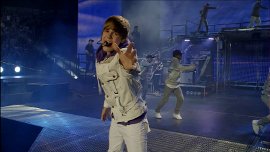 JUSTIN BIEBER: NEVER SAY NEVER
Leave it to that great Socratic thinker Ozzy Osbourne, in a recent TV commercial, to ask the question that's been on many a middle-aged mind of late: "What's a Bieber?"
Well, for those of you equally in the dark about pop music's über-star, director Jon M. Chu's Justin Bieber: Never Say Never will more than sate your curiosity; this biographical-doc-slash-concert-experience reveals the ceaselessly driven 16-year-old to be a fine singer, acceptable dancer, preternaturally gifted drummer, charmingly gauche teenage goofball, and born movie star ... at least so long as he's playing himself. Like the recent Miley Cyrus and Jonas Brothers spectacles, Bieber's vanity project isn't designed as a movie so much as a big-screen thank-you card to the star's millions of rabid fans. But despite being similarly underwhelmed by this young crooner's bubblegum output, I thought Never Say Never was quite a bit of fun, and that's not even considering the enjoyment I got from the shrieks of audience delight whenever Bieber took off his shirt or shook his hair in slow motion.
Given a 105-minute running length and an understandably limited amount of life story to draw on, the film is able to delve into its subject's career arc with impressive depth - I actually left the screening with enormous respect for Bieber and his hard-working management team - and there are fascinating and funny home-video clips galore. While the concert footage presents him as a god on Earth, I was thrilled to see that Chu at least opted against deifying the pop sensation when the kid was off-stage; Bieber's often shown to be as attention-hungry and rambunctious-bordering-on-hyperactive as any 16-year-old, and several adult handlers discuss their displeasure at how, on days off, the kid seems almost hell-bent on trashing his voice. (He's punished accordingly, with a day spent silently Twittering.) And, most entertainingly of all, the movie dedicates much screen time to the throngs of young girls - and only young girls - overcome with Bieber fever, whose every breathless declaration about their idol is endearing, touching, and utterly terrifying. "I think about him 99 percent of my life," admits one. "One day, I Twittered him 100 times," reveals another. "We will be husband and wife," asserts another. No wonder Justin Bieber: Never Say Never is currently sitting with a 1.3-star rating (out of 10!) on the Internet Movie Database. With competition like Bieber, what poor teenage geek boy stands a chance?
THE EAGLE
As so many of these swords-and-sandals outings do, The Eagle begins with a series of title cards providing historical exposition, and the ones here are particularly intriguing, telling of a cadre of 5,000 Roman soldiers - the Roman Ninth Legion - who marched into Scotland and were, for unknown reasons, never heard from again. I'll admit, then, to being more than a little disappointed when the next title card that popped on-screen read "20 Years Later ... " (Aw, I thought, I wanted to see that other story!), but director Kevin Macdonald's grungy action flick still provides a fair amount of gladiator-themed diversion. Following the trek of a bold young Roman commander (Channing Tatum) and his English slave (Jamie Bell) as they attempt to retrieve the treasured symbol of the film's title, the movie takes some getting used to; screenwriter Jeremy Brock's dialogue features some defiantly modern-day phraseology ("I should've been consulted." "Yeah, well, you weren't."), and the actors' similarly anachronistic readings and inflections are, initially, just as off-putting, though certainly no more so than the sound of Channing Tatum struggling with a European dialect would likely be. (I really enjoy the guy on-screen, but at this point in his career, Tatum probably shouldn't stretch too far outside of his comfort zone.) Macdonald, however, stages his leads' journey with wonderful undercurrents of tension and palpable distrust - you're never entirely positive that The Eagle will indulge in the bromantic bonding you expect it to - and he has a keen eye for poetic visuals; the shot of a few, then a few dozen, then a few hundred rebels emerging from forest cover delivers a thrillingly drawn-out tightening of the gut. The film really isn't anything you haven't seen before, but it's solid and enjoyable, and happily, is already the second movie of the year (after The Mechanic) to be blessed with the incredibly welcome ease, confidence, authority, and humor of Donald Sutherland. It's probably too much to hope that the actor's screen appearances will continue to be a monthly occurrence, but so far, I am digging this 2011 trend.
JUST GO WITH IT
I was going to spend my wordage on director Dennis Dugan's Adam Sandler vehicle Just Go with It - a remake, if you can believe it, of the Oscar-winning Walter Matthau/Ingrid Bergman/Goldie Hawn comedy Cactus Flower - by describing the grating star's latest as deeply unfunny, ineptly filmed drivel displaying hateful attitudes toward women, gays, foreigners, the elderly, and the obese. But then I thought, Jesus God, haven't I written this review, like, dozens of times before? So instead, let me offer some half-full analysis, and say that if you are forced into sitting through this nauseating venture, you'll at least be treated to a refreshingly alert comic performance by Jennifer Aniston, a pair of sharp pre-teen turns by Bailee Madison and Griffin Gluck, and some game mugging by, of all people, Nicole Kidman. Oh yeah, and co-star Nick Swardson is an improvement over Rob Schneider. Barely.
GNOMEO & JULIET
The animated Gnomeo & Juliet opens with a squat lawn ornament reciting what he calls the "long and boring" prologue to Shakespeare's romantic tragedy - a vaudevillian hook yanks him off-screen before its completion - and I was consequently annoyed by the movie right off the bat. What's the point in making kids hate the Bard even before they get to high school? Thankfully, though, my initial irritation quickly waned; this Touchstone Pictures comedy won't make the folks at Pixar or Dreamworks lose any sleep, but for what it is, it's clever and amusing enough. Recasting its familiar tale in the backyards of the squabbling residents of 2B and Not 2B Verona Drive, the film features as many obvious puns and gags as its title would suggest. Yet there's also plenty of throwaway wit in the visual details - I loved the appearance of the "Rosencrantz & Guildenstern Movers" truck - and in the vocal performances by James McAvoy, Emily Blunt, Michael Caine, Maggie Smith, Jason Statham, Patrick Stewart, and Extras' fabulous Ashley Jensen; despite the movie's prelude and expectedly happy ending, Shakespare's work is treated with respect. All told, Gnomeo & Juliet is a pretty good time, and would've been an even better one if the filmmakers had resisted the urge to end the film with - surprise! - a mass group dance in which even the one character to get killed is granted a curtain-call boogie. Making sense of Elizabethan verse is tricky enough, but if kids eventually come to Romeo & Juliet knowing only of this animated spoof, man are they gonna be confused.