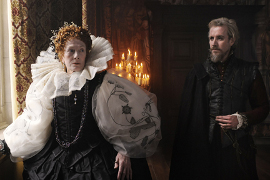 ANONYMOUS
Heaven knows that no one goes to a film by the director of Independence Day, Godzilla, The Day After Tomorrow, 10,000 B.C., and 2012 for the cinéma vérité. But how are thinking audiences supposed to react to Roland Emmerich's Anonymous, a tale of Machiavellian intrigue so sincere about its high-minded yet ludicrously silly drivel that one has little choice but to snicker at it?
Written by John Orloff, the movie dramatizes the wheezy notion that William Shakespeare was not, in truth, the author of the plays and sonnets credited to him, which were instead crafted, for reasons too torturous to get into, by the aristocratic Earl of Oxford, Edward de Vere (Rhys Ifans). Yet whatever specious "truths" the filmmakers were hoping to offer with their Elizabethan imagining are consistently waylaid by a hopelessly phony presentation. Both Emmerich's staging and Orloff's intensely expository screenplay are sadly lacking in poetry and power, and for the most part, the portrayals - especially those of Rafe Spall's besotted Shakespare and Trystan Gravelle's mincing, bitchy Christopher Marlowe - are grossly overscaled. (Matters aren't helped by much of the dialogue sounding as though it was looped in during post-production, nor by the campy theatrical device of having "shocking" pronouncements routinely followed by loud thunderclaps, as in a drawing-room chiller circa 1910.)
Anonymous' costuming and scenic design are impressive, and by the film's second half, the hysteria has at least abated enough for a series of quiet one-on-one encounters to carry legitimate dramatic weight; the nicely anguished Ifans is granted some particularly strong moments opposite David Thewlis' William Cecil, Sebastian Armesto's Ben Johnson, and the glorious Vanessa Redgrave's elder Elizabeth I. (Literally every line and gesture that Redgrave delivers as the haunted, slowly deteriorating monarch is marvelous; watching her, I regretted, more than ever, that no one has yet allowed the actress to commit her Tony-winning turn in Long Day's Journey into Night to celluloid.) Yet if you know anything about Shakespearean history - hell, if you know anything about basic chronology - you might find Emmerich's latest too goofy to be believed. (At one point, the director underscores a scene to Mozart's "Requiem" ... a scene set almost 200 years before that piece of music was actually written.) It's one thing for the film to suggest that the Bard's works weren't produced in the order that most scholars believe they were, as shown in a speedy, greatest-hits montage that finds Romeo & Juliet leading to Twelfth Night leading to Julius Caesar leading to Macbeth leading to Hamlet. But as the movie's timeline and an accompanying flashback insist, are we really supposed to buy that Edward de Vere not only starred in a production of A Midsummer Night's Dream for the young Queen Elizabeth, but wrote this sophisticated lark when he was 10 years old? At its worst, Anonymous is an incoherent, brooding, laughable bore. At its best, it's a movie designed for people who don't know anything about Shakespeare and don't want to learn.
THE WAY
Written and directed by Emilio Estevez, the inspirational drama The Way concerns a 60-something ophthalmologist (played by Estevez's dad, Martin Sheen) who makes an unplanned trek to Europe after the death of his son, and who decides to scatter the young man's ashes while walking the spiritual pilgrimage known as the Camino de Santiago, or "The Way of St. James." As a movie experience, Estevez's offering is a little like The Straight Story without David Lynch and the lawnmower. It's also a little like Eat Pray Love, and The Station Agent, and other lightly sentimental works in which suffering souls find a measure of peace through the kindnesses of strangers and communion with the great outdoors. Yet while nothing in the work will likely qualify as new news, Estevez's unforced, exceptionally sensitive film exudes an ebullient spirit and a unexpectedly fizzy charm, and proves to be an outstanding showcase for Sheen, who, in the years since The West Wing went off the air, can't possibly be on-screen enough for my tastes. (That Emilio is such a good boy; in addition to a plum role for his pop, he provides his sister Renée Estevez - also a regular West Wing presence - with a pleasing cameo at the movie's start.)
Once Sheen's silently grieving father hooks up with his accidental touring companions - Yorick van Wageningen's genial Dutchman, Deborah Kara Unger's tightly wound Canadian, and James Nesbitt's loquacious Irishman - the film too often slips into cutesy sitcom formula; Unger's habit of calling Sheen "Boomer," as in "baby boomer," is particularly irritating. (As is Unger's habit of pulling cigarette after cigarette from a slender, though seemingly bottomless, carrying case. The only traveling gear this woman appears to have packed are cartons.) Yet even at its clumsiest, The Way remains beautifully performed and moving without being pushy, and earns bonus points for its playful, occasionally spiky sense of humor. Nearing the end of one of his more rambling tales, Nesbitt's book writer turns to Sheen for his reaction, only to find the man dead asleep. "Finally," says the Irishman. "An American without an opinion."
Follow Mike on Twitter at Twitter.com/MikeSchulzNow.