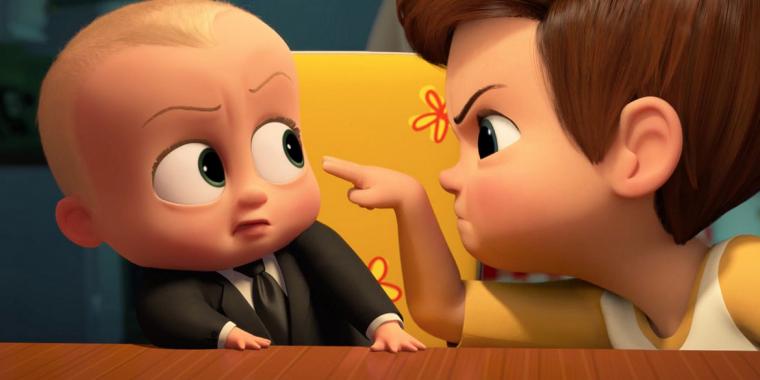 THE BOSS BABY
Alec Baldwin is currently playing an entitled, petulant, suit-wearing infant – but you've seen the SNL sketches, so you knew that already. He's also playing one in the animated comedy The Boss Baby, and damned if I can determine which of Baldwin's preening man-children I adore more. Depending on the writing, his satiric pokes at President Trump can land anywhere between one-dimensionally boorish and madly inspired. Baldwin's titular, Heaven-sent newborn, though, is a consistent vocal riot, even if we're inevitably deprived of the actor's physical wit and hysterical deadpan. Director Tom McGrath's family outing is clever and very funny, but for fellow fans, it's also a bit like a lost episode of 30 Rock, with Jack Donaghy's soul magically transferred into the body of his rarely seen child.
McGrath previously directed Megamind and co-directed the three Madagascar movies, and The Boss Baby shares the unfettered goofiness of those films at their comedic peaks. It's easy to view McGrath's latest as a metaphor, with grade-schooler Tim (voiced by Miles Bakshi) shocked by the new arrival in his formerly sibling-free household: a chubby pink lump of demands whom the boy sees as a briefcase-wielding CEO garnering all the attention, all the time. But one of the many unexpected pleasures here is that Baldwin's unnamed tyke isn't metaphoric – he really is a pint-sized shark in a power suit. Sent on a recon mission by upper management at the cloud-based Baby Corp., the scheming, loquacious Boss Baby must disguise himself as an actual infant to infiltrate Puppy Co., where geneticists are designing a new breed of pooches so cute they'll make children forever irrelevant. That may be the single silliest sentence of plot synopsis I've ever written. "Silly," however, doesn't begin to do justice to the inventive lunacy on display in McGrath's and screenwriter Michael McCullers' freewheeling lark. Although a few fantasy and chase sequences make the movie feel somewhat padded – the Marla Frazee book it's based on is only 36 pages – there are so many visual delights and quotable lines that it sends you out of the theater sporting a big, stupid grin. (This is particularly true if you stay all the way through the end credits, at which point Tim's alarm clock – a hilarious Ian McKellen-as-Gandolf figure voiced by James McGrath – commands us to "BEGONE, HALFLINGS!!!")
There's no question that this tale of grudging sibling acceptance and a youth's fear of abandonment has a sentimental streak; any film that uses Paul McCartney's "Blackbird" as its musical mantra is obviously aiming to jerk some tears. Yet while you can generally predict when the emotionalism is going to hit, the same can't be said for most of the gags, which tend to elicit quick cackles of surprise. I definitely wasn't the only one at my screening to be blindsided by the brief flash of (pixelated) frontal nudity, or the employment of a notable Six Million Dollar Man sound effect, or the conversation between a pair of marble-mouthed Elvis impersonators that required subtitles. And while the superb Glengarry Glen Ross reference has been duly exploited in the trailers – and has, perhaps, led to some anticipating more of a one-joke experience than the movie turns out to be – Baldwin's gravelly Greatest Hits package remains ceaselessly enjoyable, in large part because McCullers keeps coming up with such frank and unexpected throwaways for our hellion-in-miniature. (Tim: "My father says those who can't do, supervise." Boss Baby: "Your father is a hippie.") As an animated treat, The Boss Baby looks terrific, especially when a villain's origin story is visualized as an incredibly ornate pop-up book. Yet it sounds even better, due not only to the winning vocals of Bakshi, Jimmy Kimmel, Lisa Kudrow, Steve Buscemi, and the incomparable Baldwin, but just about anyone allowed to deliver McCullers' dialogue. Even if you only get seven words in which to shine, what actor wouldn't want the honor of voicing an airport-PA announcer and saying, "Ladies and gentlemen ... and those in coach ... "?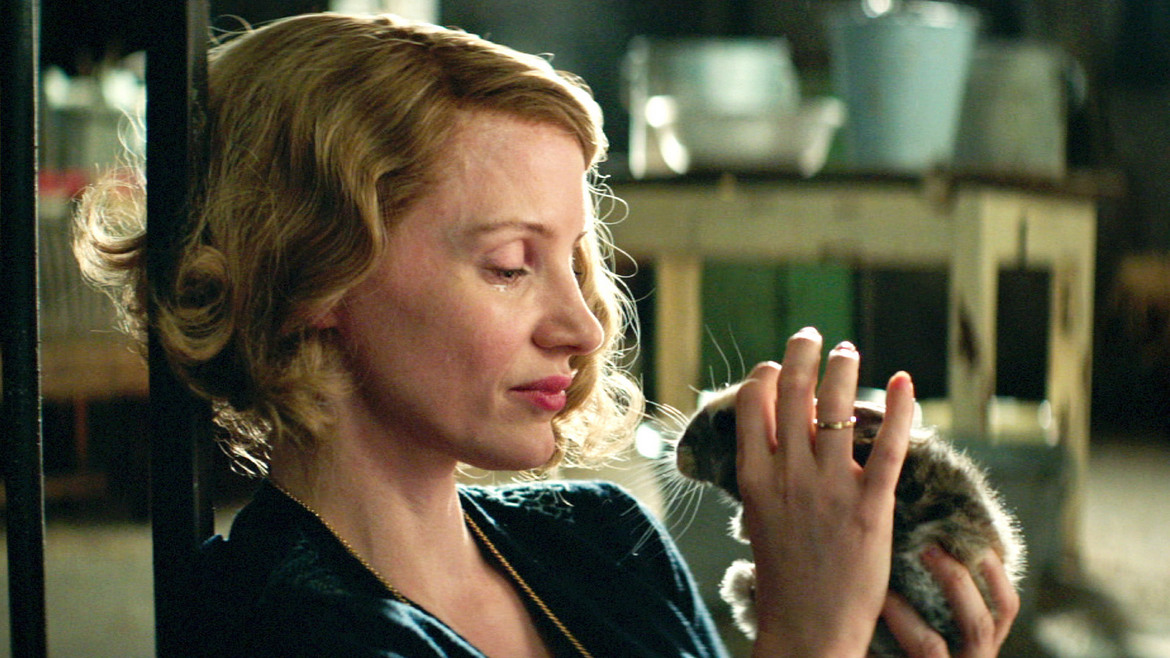 THE ZOOKEEPER'S WIFE
Poor Daniel Brühl. He stays decently employed, but I have to believe the guy would be landing better, more varied roles if he just got rid of his umlaut. Last year, in Captain America: Civil War, the apple-cheeked German/Spanish actor appeared so out-of-place as the nefarious Zemo that he seemed hired merely because his accent is Hollywood shorthand for "pure evil" (and maybe because Inglourious Basterds co-star Christoph Waltz was unavailable). Now, in the World War II saga The Zookeeper's Wife, Brühl shows up as a purportedly sympathetic soul who sheepishly smiles when saying, "I'm a zoologist, not a politician," and you immediately think Nope – you're clearly a Nazi. It's particularly sad that he's so obviously cast as what turns out to be a depressingly obvious character, because much of director Niki Caro's historical drama – especially the non-Brühl stuff – is really quite fine.
Based on Diane Ackerman's book, the film explores how Antonia and Jan Zabinski (Jessica Chastain and Johan Heldenbergh) – married owners of a beloved zoo in Warsaw, Poland – successfully smuggled hundreds of Jews out of the Warsaw ghetto and hid them in their facility's tunnels and animal cages. Despite screenwriter Angela Workman's unfortunately prosaic and rather artless screenplay, it's a hell of an inspiring story, and there are numerous moments in which Caro lends it treatment to match. The Warsaw air raid of September 1, 1939, is especially vivid and memorable given Caro's decision to focus less on our heroes than the panicked animals who obviously don't understand the chaos around them. But the movie is full of haunting images: suddenly freed lions and tigers wandering along Warsaw's cobblestone streets looking desperately confused, though not as confused as the Poles witnessing the sight; a traumatized teen (the exquisite Shira Haas) clutching a baby rabbit as if her life depended on it; the snowflake that gently falls from an elephant statue and suggests a lone teardrop. Caro also does wonderful work with most of her performers, allowing the tremulous and affecting Chastain plenty of breathing room and revealing Heldenbergh to be a solid, resourceful actor in the David Harbour mode. It's definitely on the tamer side of WWII pictures – even when it's wrecking us with images of wide-eyed children being hoisted onto train cars – and certain important details, such as Jan's exact position among the German resistance, appear to have been lost in the editing process. But The Zookeeper's Wife is still an engaging and fitfully moving work ... right up until every entrance of Daniel Brühl, who might have been subtly menacing if his role as "Hitler's zoologist" weren't designed as such a pesky, irritating, melodramatic plot contrivance. As long as the filmmakers were giving the man a mustache, couldn't they have given him one big enough for twirling?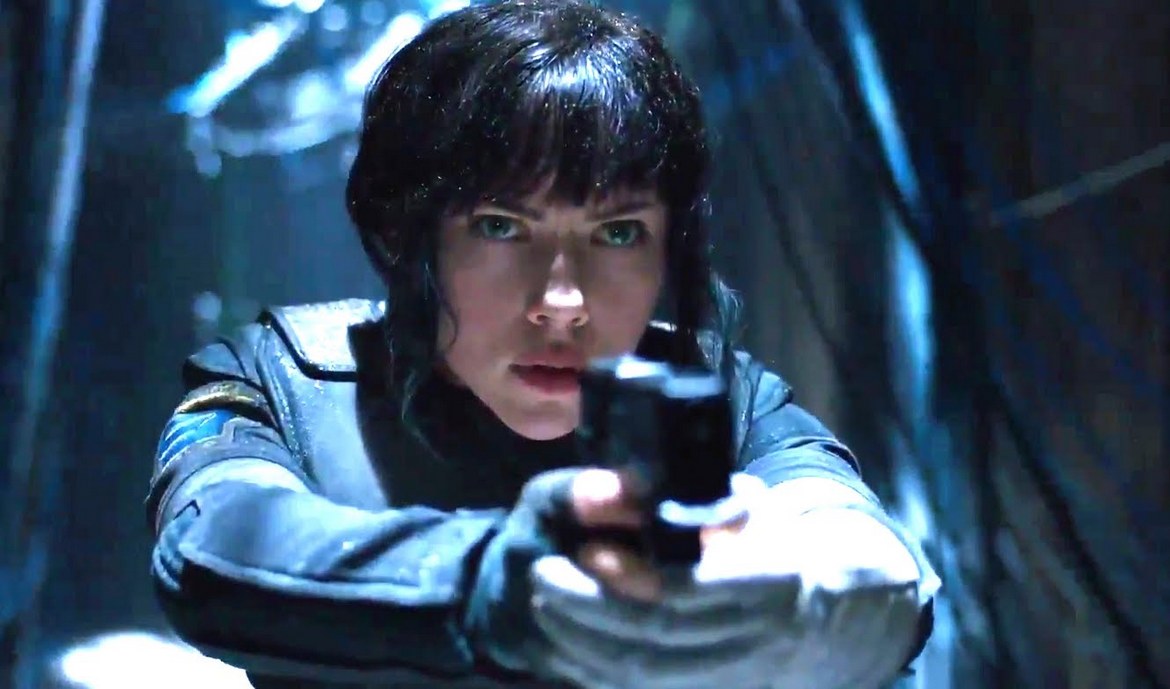 GHOST IN THE SHELL
"In the near future, Major is the first of her kind: a human saved from a terrible crash, who is cyber-enhanced to be a perfect soldier devoted to stopping the world's most dangerous criminals." That's the first sentence of storyline found on Ghost in the Shell's Internet Movie Database page. And I'm quoting it to help explain why I fought the urge to sleep throughout director Rupert Sanders' live-action anime, given that the phrases "near future," "cyber-enhanced," "perfect solider," and "world's most dangerous criminals" all set off my involuntary yawn triggers. Much has been made about the casting of Scarlett Johansson as the aforementioned ass-kicker Major, considering that the genre-legendary character is Japanese and the alabaster-skinned star so isn't. But I wasn't bothered by the predictably insensitive Hollywood-ization of the role so much as Johansson wanting to play it in the first place. After Lucy, Under the Skin, and her sentient OS in Her, hasn't she already cornered the market on throaty hybrids who are both more and less human than they seem? Unfortunately, as it concerns Major's attempt to uncover her true identity in the midst of stopping that cadre of world's most dangerous criminals, Ghost in the Shell proves as formulaic and unsurprising as Johannson's portrayal. The effective-enough visuals are pure Blade Runner by way of Luc Besson and the Wachowskis, and neither the plotting nor the presentation deviate from the expected; as soon as the action moves to a Zen garden boasting a rectangular koi pond, you just know some bullet-ridden bad guy is gonna splash into that thing backward and in slow motion. Sanders' actors at least gave me some reason to perk up, momentarily cheered as I was by the strong presences of Juliette Binoche, Pilou Asbaek, Kaori Momoi, and the uncredited, too-rarely-seen Michael Wincott. (Michael Pitt also shows up, intriguingly credited as "Michael Carmen Pitt." Is he planning to start performing arias by Bizet?) But for a movie that climaxes with an insistent "Humanity is our virtue," there's nothing lifelike about the moribund banality of this Ghost in the Shell, which I guess should've been expected once I saw screenwriter Ehren Kruger's name attached. Anyone who authors the Transformers sequels Revenge of the Fallen, Dark of the Moon, and Age of Extinction is clearly siding with the 'bots.