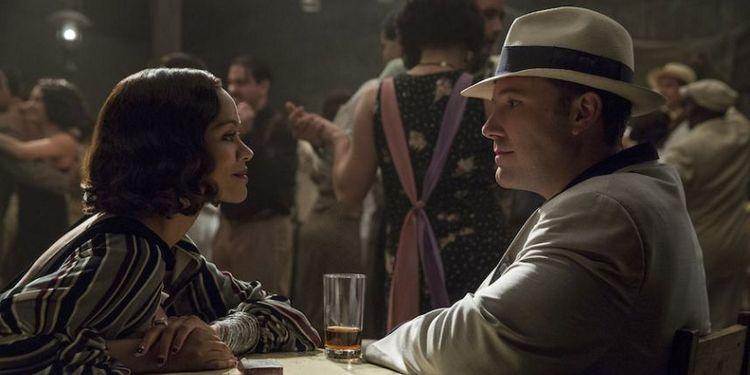 LIVE BY NIGHT
I don't know about you, but I love watching car chases in movies set in the 1920s, because you know that despite sharp editing and camera angles giving the impression of astounding speed, those vehicles were probably scooting around at 40 miles per hour tops. Live by Night, director/writer/star Ben Affleck's adaptation of Dennis Lehane's 2012 novel, is similarly deceptive. Telling of a petty Boston crook who, between the '20s and '40s, becomes a Florida-based rum entrepreneur and bona-fide gangster, the film has a breadth and look and quality performers suggesting an epic tale of venality and greed, like The Godfather with fewer Sicilians and heavier humidity. In truth, however, it's a dawdling, unsatisfying attempt at an epic, and it is slow. Forget 40 miles per hour; this thing doesn't have a heart rate of even 40 beats per minute.
To be fair, there are more than a dozen reasons to at least consider catching Affleck's directorial follow-up to Argo, even if you can't count on many of them – any of them? – making it to the closing credits. I'm referring, obviously, to Live by Night's supporting cast, because it's a true embarrassment of riches. We get Chris Cooper and Brendan Gleeson as incorruptible law officials, and Robert Glenister and Remo Girone as hugely corruptible mob bosses, and the great Chris Messina, with a beer gut and gnarly fake teeth, doing a witty character turn as Affleck's second-in-command. Sienna Miller, earning best-in-show honors, brings a seen-it-all saltiness and perfect Irish brogue to her role as damaged goods from Dorchester; Zoe Saldana, ethereal yet earthy, is Affleck's Florida paramour; Elle Fanning delivers heartbreak as a virginal sweetheart too-easily susceptible to sin. (In rough outline, if you can imagine, Fanning's character morphs from July Garland in The Wizard of Oz to Paul Dano in There Will Be Blood to Jodie Foster in Taxi Driver.) Plus Max Casella, Matthew Maher, Titus Welliver, Clark Gregg, Anthony Michael Hall, Christian Clemenson ... . If you have a SAG card and a pulse, you're probably in Live by Night somewhere, and probably did some pretty outstanding work. Unless your name is Ben Affleck, in which case you – and consequently, your picture – are resoundingly blah.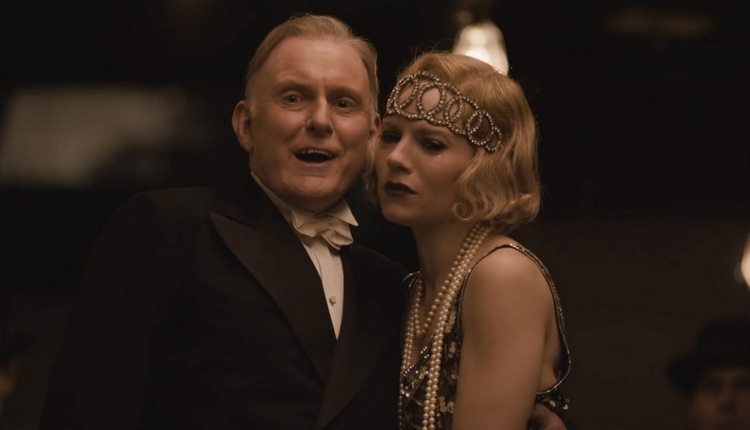 Gone Baby Gone is nearing its 10th anniversary, and as the years pass I become more and more convinced that Affleck's directorial debut remains his finest behind-the-camera achievement. Could that be because it's the only one thus far in which Affleck – that is, Ben Affleck – doesn't appear? (I wonder if it kills the man that little brother Casey is, hands down, the more honest and resourceful actor of the pair.) His latest boasts a wide variety of problems that aren't specific to Affleck, or rather, to Affleck as a screen presence: the pokey pacing of encounters and conversations that already run too long; scenes between narrative developments that appear to have been lost in the editing room; art direction that looks period-appropriate but not at all lived-in. But beginning with his deeply unnecessary voice-over narration that isn't given a rest over two-hours-plus, Affleck, for the most part, comes off as sluggish, uncommitted, and bored – and early on, I began to feel this was intentional.
Every once in a while, Affleck seems to escape or simply forget about his Joe Coughlin character and revert to again playing Good Will Hunting's Chuckie. One odd scene in which he tells Messina, "Watch this!" as he struts across the room and hits on Saldana felt like his unsuccessful pick-up of Minnie Driver all over again, and a few of Affleck's awkward confrontations, with Joe's Boston dialect noticeably thicker than usual, also bring to mind Chuckie's sing-song-y "Re-ta-a-a-a-ainer!" line. More frequently, though, Affleck is just one-dimensionally stoic whether acting the tough guy or romancing whomever or giving himself a self-aggrandizing closeup while facing down the KKK; he seems to be equating "cool" with "not doing a damned thing of interest," and emerges solely as a big, beefy blank. There's nothing going on when Affleck stares down either his co-stars or the camera here, and so Live by Night, despite its wondrous supporting crew, can't help but be the mere shell of an epic with a wholly hollow center. I never thought I'd request this, but can Ben go back to being Batman now? At least the costume gives us something to look at.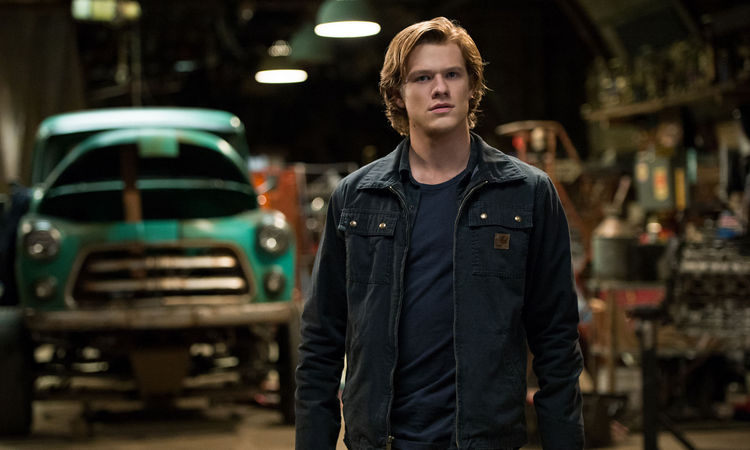 MONSTER TRUCKS
Are there officially too many good actors in Hollywood? Like, so many that we no longer have anywhere to put them? Director Chris Wedge's adventure fantasy Monster Trucks, a big-budget outing that looks distractingly cheap, is nothing more than a lightweight, family-themed diversion – basically E.T. with an oil-guzzling octopus and a teenage Elliot (albeit one played with broad-comedy brio and unforced emotion by Lucas Till). But the first person you see on-screen is the wonderful comic actor Thomas Lennon, who's soon followed by the ever-wonderful Rob Lowe, who's soon followed by Barry Pepper, Danny Glover, Frank Whaley, Holt McCallany, and the indispensable Amy Ryan, the latter showing up in the first 10 minutes and then not again until 30 seconds before the credits roll. What are all these talented people doing here?!
Hopefully, they're at least having a bit of fun, because the movie is a bit of fun, too. Its narrative is baldly indebted to loads of similar films, most recently last summer's Pete's Dragon remake, and I was somewhat taken aback that this entertainment best-suited for the wee-est of kids would find its chief villain so willing, eager even, to kill them. (It was also mildly off-putting that a movie with such family-friendly language – "Oh my gosh!" and "What the heck?" and the like – would give us a bare ass crack and a character puking directly at the camera.) But our human hero's inhuman ally, with his big toothy grin, is colossally endearing, as are his brethren who resemble gargantuan gobs of chewed bubble gum. Until she becomes a generic girlfriend figure, Jane Levy – so outstanding in the recent horror hit Don't Breathe – is a riot as Till's über-perky, biology-obsessed schoolmate who's like the friendly doppelgänger of Election's Tracy Flick. And within all of Monster Trucks' expected automotive demolition, there are enjoyably loud and cathartic car-crushings galore, plus some exceptional stuntwork that, even in CGI, made me legitimately fear for the drivers' safety. Says Lennon's worrywart during the climactic melee, "I really hope they have their seat belts on." This worrywart did, too.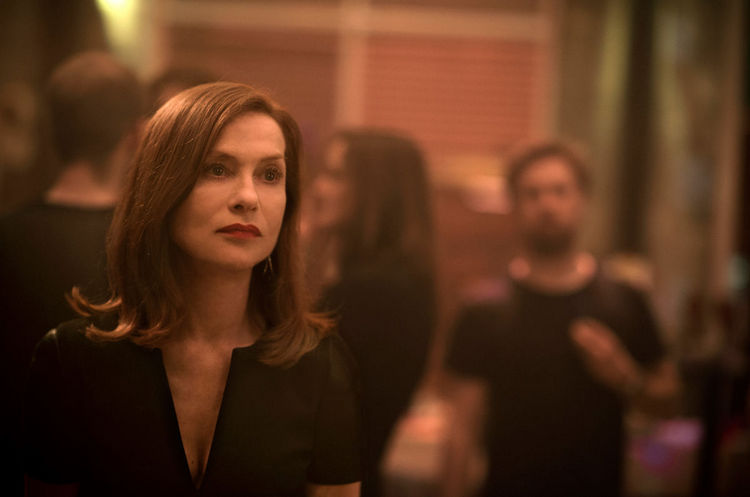 ELLE
Currently playing at Iowa City's FilmScene, the French-language Elle opens in the middle of the brutal rape of a middle-aged woman while her house cat watches with typically feline apathy. Minutes later, after sweeping up broken glass and taking a bath, the woman is on the phone benignly ordering takeout. Is she in shock? Is she in denial? Is she so accustomed to life's horrors that this counts as just more of the same? The perverse genius of Elle is that it never outright answers those questions; it just offers enough teasing possibilities to let you decide for yourself, or simply follow the lead of director Paul Verhoeven and star Isabelle Huppert and merely sigh, "C'est la vie."
I've never before seen a film quite like this one, which I mean mostly as a compliment. At times, it plays like a demented thriller, with Huppert's video-game-company CEO Michèle Leblanc trying to determine her attacker's identity and what she'll do once that information is hers. At other times, it's a gleefully unsettling revenge fantasy, with Michèle's ex-husband (Charkles Berling), current lover (Christian Berkel), attractive neighbor (Laurent Lafitte), and mostly male employees paying for a crime they likely didn't – or maybe did – perpetrate. At others, it's a profoundly French comedy of bourgeoisie manners, with Michèle's heavily Botox-ed mother (Judith Magre) not realizing how ridiculous she looks alongside the gigolo (Raphaël Lenglet) she intends to marry, and Michèle's lunkhead-sweetheart son (Jonas Bloquet) not understanding that the mixed-race baby of his shrew-ish girlfriend (Alice Isaaz) couldn't possibly be his. And at still others, it's a slowly percolating horror movie, especially when the information drops that Michèle's father was responsible for the serial-killing of 27 neighbors (not including pets), and that Michèle herself may have been a pre-teen accomplice. As scripted by David Birke and adapted from Philippe Djian's novel, it's sometimes all too ludicrous to be believed even coming from Basic Instinct, Starship Troopers, and Showgirls director Verhoeven, and the final scenes don't leave you with the hoped-for "Whoa!" so much as a "Hmm." But by all means, check out Verhoeven's unclassifiable thriller – recent Golden Globe winner for Best Foreign-Language Film – for its brilliant Hitchcockian flourishes (including Anne Dudley's evocative score), its originality, its refusal to ever be dull, its shocks, and, yes, its unexpected hilarity. Most especially, see it for the almost criminally magnetic Globe winner Huppert, whose deliciously, dynamically inscrutable work as the most complex of souls may be the female film performance of 2016. See it, too, for a sight you wouldn't see from Hollywood in a million years: a 63-year-old actress, even a film legend, being allowed to play a woman 16 years her junior. Vive la France!
For reviews of Patriots Day, Sleepless, and The Bye Bye Man, visit "Missing the Mark ... and Not Missing Him."