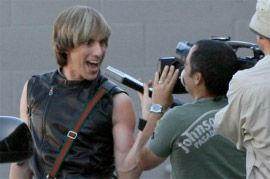 BRÜNO
Returning with a comedy in a vein similar, re-e-e-eally similar, to that of their 2006 smash Borat, director Larry Charles and co-writer/star Sacha Baron Cohen now present us with Brüno, another mock-doc based on one of Cohen's famed Da Ali G Show characters. With a storyline that you can easily summarize in three words - Borat gone gay - it's the pair's latest attempt to shock the masses into spasms of outrage and gales of uncontrollable laughter, and I'll readily admit that the movie is pretty funny, and sometimes awfully funny.
But with absolutely no homoerotic double-entendre intended, it's a film that leaves an unpleasant taste in your mouth, not because it's so outré, but because it feels so phony. Borat's comic subversion, more often than not, stemmed from Cohen's encounters with people who were obviously not in on the joke, and with the exceptions of Ron Paul and maybe one or two others, I'm not convinced that there's anyone in Brüno who isn't in on the joke. Like Borat, the movie is raunchy, inventive, sociologically fascinating, frequently hilarious, and blessed with a spectacular deadpan performance by its creator. Unlike Borat, it feels like a crock.
Brüno's titular fashionista - 19 years old, Austrian, and aggressively swishy - would seem tailor-made to appall a new set of unwitting victims, just as Borat preyed on the surface decency and revolted (and oftentimes revolting) xenophobia of his American acquaintances/suckers. Is it possible, though, that there's hardly anyone left to fool? In his insatiable quest to become a mega-celebrity, Brüno, as Borat did, has a number of awkward and defiantly tasteless run-ins here with salt-of-the-earth types. Yet almost across the board, the people he meets in this new film seem less like regular folks than really bad professional actors.
Scenes of Brüno chatting up a prospective Hollywood agent, interviewing candidates for a baby-themed (and nauseating) ad campaign, and arguing with a hostile crowd on The Richard Bey Show are sort of entertaining, but I never believed a word that came out of the "unrehearsed" participants' mouths; for "real" people, they all seem aggressively unreal, like the vacuous studio audience in an infomercial for a new juicer. Nearly everyone here (again, Mr. Paul excepted) appears distractingly aware of the camera, and the possibility that it's all a hoax, in a way they weren't in Borat. Consequently, even the most seemingly foolproof scenarios - such as Bruno's hetero getaway with a trio of Alabaman hunters - leave you wondering just how much of the banter and participation was rigged, and tend to mute your laughter.
Unexpectedly, it's the obviously staged bits, such as the one that finds Brüno darting into traffic with a toddler on his lap, that are actually much funnier than the "unplanned" ones, and Cohen is such a magnificently droll - and, God knows, fearless - comedian that he can elicit cackles without appearing to try at all, sometimes merely through a perfectly cadenced one-syllable word. ("Right?") In the end, Brüno is still a good-enough bad time. But despite the man-on-man action and the anal bleaching and the talking penis (admittedly, a killer sight gag), the movie isn't quite the riotous debauch you hope it'll be. How subversive can a movie be that ends with Elton John performing a heartfelt, if satiric, gays-are-people-too anthem? Granted, he's singing it while sitting on the back of an unpaid Mexican laborer, but still ... .
ICE AGE: DAWN OF THE DINOSAURS
I saw Ice Age: Dawn of the Dinosaurs five days prior to my writing of this, and I really don't remember much about the movie. Of course, it's really no less than I remembered five minutes after seeing the movie. As I recall, there was a really clever moment when one of the animals was caught in a Venus Flytrap, and couldn't escape until he decided which trigger hair to cut - the red one or the blue one. I remember there being a pretty unamusing subplot with John Leguizamo's kinda-amusing sloth, in which he adopted three dinosaur babies, and I remember that the series introduced a weasel character who wasn't half as entertaining as he should've been, considering he was voiced by Simon Pegg. I know there was a lot of mucus and bile and goo on display, all of it exactingly animated, and a whole bunch of body-odor and fart jokes. Oh yeah, and the voiceless squirrel Scrat finally gave up his pursuit of that elusive, wily acorn and fell in love, leaving the inanimate animated nut with a broken heart. Or shell. Whatever.
The rest, I'm happy to say, is an almost total blank, a vague haze of lazy jokes, dull plotting, dreary Life Lessons, and uninspired vocal work by the likes of Ray Romano, Queen Latifah, and Denis Leary ... just as it was on the drive home from the cineplex. It made perfect sense that director Carlos Saldanha's second Ice Age sequel duked it out with Transformers: Revenge of the Fallen for last weekend's box-office crown, as both are triumphs of marketing over content, and neither displays even a tenth of its predecessor's wit. One's just a lot quieter than the other. Just as boring, though.
I LOVE YOU, BETH COOPER
Given last fall's speedy, intelligent, and joyously nonjudgmental Nick & Norah's Infinite Playlist, this spring's hysterically verbal (and criminally underrated) Fired Up!, and the current, utterly charming I Love You, Beth Cooper, there seems to be a genuine teen-comedy renaissance underway, the likes of which we may not have seen since the heyday of John Hughes. Why do so few teens seem to care?
Directed by Chris Columbus - and, to my mind, the most consistently enjoyable film yet from the director of Home Alone, Rent, and the first two Harry Potters - I Love You, Beth Cooper is the latest Hollywood teen flick to be greeted with close to zero interest by the audiences it was purportedly made for. And that's a real shame, because this kind of unpretentious cleverness and legitimate sincerity is tough enough to find in any cinematic outing, let alone one designed for those not old enough to legally drink.
The whole movie unfurls over one day and night in the life of high-school valedictorian Denis Cooverman (Paul Rust), who makes several uncharacteristic mistakes during his commencement speech: He pointedly insults several of his tormentors, outs his best friend Rich (Jack Carpenter), and declares his undying love for the school's head cheerleader (Hayden Panettiere), a stereotypical golden girl - he thinks - who barely knows he's alive. What follows is a frequently manic, occasionally poignant escapade in which Denis and Rich hang with Beth and her pals while battling bullies and their own anxieties, and as spirited as it is, I'll admit that it's hardly flawless. Tonally, the movie is all over the map, and it's rife with too-brutal slapstick and scenes that strain credibility to the nth degree.
But you know something? It's hardly likely that Emilio Estevez's Breakfast Club jock could've screamed so loud that he'd shatter a pane of glass, or that Ferris Bueller could hijack a Chicago parade with a lip-synched "Twist & Shout," and I don't recall any of us getting in a dither about it. With its tart, surprisingly affecting script that Larry Doyle adapted from his own novel, I Love You, Beth Cooper is like much of Hughes' mid-'80s oeuvre: fast-paced and rambunctiously silly, and given snappy comic spin and a healthy dose of gravitas by an incredibly appealing young cast. The movie even improves on Hughes by allowing Denis' parents to be funny and (mostly) dignified; Mom is played by the endearing Cynthia Stevenson, and Dad by the great Alan Ruck, forever recognizable as Cameron Frye ("Frye ... Frye ... ?") in Ferris Bueller's Day Off. And I'm officially feeling older than hell.