LINCOLN
Steven Speilberg has never directed a talkier movie than his presidential biopic Lincoln, and only on rare occasions, it seems to me, has he directed a better one.
Arriving with a script by Pulitzer Prize winner Tony Kushner - he of the two-part, six-and-a-half-hour stage experience Angels in America - it was a fair guess that Spielberg's latest would be filled with its author's signature brand of hauntingly evocative yet thrillingly precise verbiage, especially considering the film's focus on one of the greatest speech-makers in human history. But despite their beautiful partnership on 2005's Munich, I couldn't have predicted that Spielberg would appear so at ease with, and enlivened by, Kushner's many scenes of wigged patriots arguing on the House floor or debating morality in shadowy rooms of the White House. Barring a couple of brief, vivid visualizations of Civil War combat, the "action" in Lincoln - which dramatizes our 16th president's attempts to secure the votes necessary to abolish slavery - is almost completely confined to the fervently delivered passion of its dialogue. Spielberg, however, directs these proclamations, reminiscences, and verbal assaults with much the same immediacy and raw, explosive power found in Saving Private Ryan's opening beachfront massacre; words undeniably matter here, and Lincoln's helmer is smart enough to curtail his penchant for visual fireworks and simply let Kushner's words, and the movie's exceptionally strong cast, do their work. The film is an epic, but it's an unexpectedly intimate epic, and probably Spielberg's most consistently excellent endeavor since Schindler's List.
There is, of course, a third major collaborator on hand, and it will likely come as no shock to hear that Daniel Day-Lewis inhabits the role of Honest Abe with typically transcendent skill, effortlessly demonstrating Lincoln's intelligence and wiliness and unimpeachable strength of character. Yet prior to Lincoln, has this inarguably marvelous actor ever been quite so charming onscreen? With his serene, courtly manner and fondness for rambling stories and off-color jokes - the one he tells here involving a portrait of George Washington and an outhouse is truly hilarious - Day-Lewis' Lincoln frequently suggests a friendly, small-town barber in the guise of a world leader, and is further humanized by his high, reedy voice that might almost be apologizing for the sentiments it's uttering. You're never in doubt about Lincoln's command and the respect he's earned among friends and foes, but Day-Lewis' secret weapon in the constant sense of empathy he engenders; you fully enjoy this Lincoln's presence, and when he's anguished, as the man is in several beautifully written scenes opposite his damaged wife Mary (a spectacularly fierce, tragic Sally Field), your heart breaks along with his. A number of actors, maybe, could have played the role with equal intensity and oratorical finesse, but perhaps only Day-Lewis would have thought to make such an intimidatingly iconic figure so unassuming - the better to get the better of his political adversaries - and one whose company is such a continual pleasure.
And "continual pleasure" pretty much describes Lincoln itself, a two-and-a-half-hour history lesson that proves to also be, against considerable odds, almost miraculously entertaining. With its cinematography by Janusz Kaminski and its faultless production design, the movie looks about as magnificent as one would imagine possible, and Spielberg and Kushner wisely and generously supply laughs through a trio of Republican vote-wranglers (the expert John Hawkes, Tim Blake Nelson, and James Spader) with comically unethical powers of persuasion. Yet from the fiery declarations of incensed abolitionist Thaddeus Stevens (an extraordinarily fine Tommy Lee Jones) to the stark horror of the Civil War battlefields to the quiet images of Lincoln pondering his country's future or merely sitting with youngest son Tad (Gulliver McGrath) on his lap, I don't think there was even a moment here that I wanted to see end. You may enter Lincoln expecting it to be good for you, but it won't take long to realize that, instead, it's just plain good. Awfully damned good, actually.
THE SESSIONS
John Hawkes and Helen Hunt are so raw and complex and moving in writer/director Ben Lewin's The Sessions - a based-on-fact tale concerning the late, disabled poet Mark O'Brien - that it's somewhat dispiriting to find the movie itself unable to approach their levels of honesty. Confined to an iron lung following a childhood exposure to polio, Hawkes' 38-year-old O'Brien, here, explores physical intimacy with the aid of Hunt's sexual surrogate Cheryl, yet the script's frequently broad strokes are really the opposite of intimate; Lewin's sitcom-cute dialogue and situations feel like a deliberate, awkward de-fanging of potentially alienating material. (William H. Macy's perpetually flummoxed priest is around to offer endearing nuggets of homespun wisdom and the occasional beer that, as we're shown, boasts the product name "Beer.") Despite its noble intentions, The Sessions is a little precious for my tastes and - particularly regarding the self-conscious comedy of O'Brien's failed sexual encounters - more than a little frustrating. But I still wouldn't have missed the movie for anything, given Hawkes' sensationally wry, deeply touching embodiment of his afflicted character, and Hunt's sterling interpretation of a smart, serious woman who finds her emotions at war with her professional obligations. These actors are the real deal, even if Lewin's film has an apparent problem dealing with reality.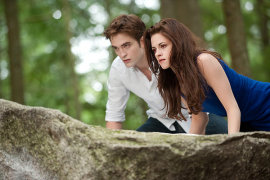 THE TWILIGHT SAGA: BREAKING DAWN, PART 2
The Twilight Saga: Breaking Dawn, Part 2 opened this past weekend - had you heard? - and this final installment of Stephenie Meyer adaptations ends with a de facto curtain call for nearly every performer who had a speaking line in any of the series' five films. It's actually quite a lovely send-off for fans, and one so generous that I won't spoil the fond farewell by discussing, yet again, why this particular franchise just doesn't work for me, or why I found director Bill Condon's concluding chapter mostly underwhelming and tedious. (Long story short: The movie is more of the same, but far less, as all of the really intriguing drama in Breaking Dawn apparently takes place in the novel's first half.) So as I bid a relieved adieu to Kristen Stewart, Robert Pattinson, Taylor Lautner, and their vampire and lycanthrope pals, let me just say that Michael Sheen, as the threatening Volturi leader Aro, is about as hysterically, flamboyantly mesmerizing as you could want, and there was something quite sweet about the assemblage of supportive vampires who show up to help our heroic Cullen crew from all around the world. You'll recognize the Irish vampire by his green sweater and puckish wool cap.