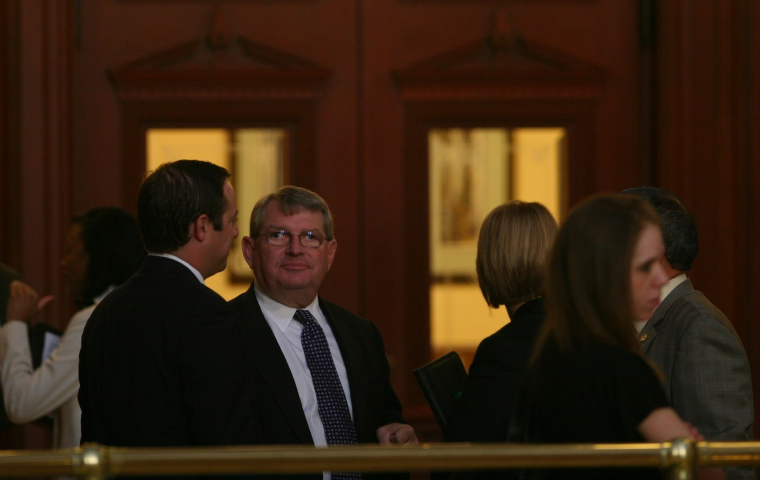 "He has kept his mouth shut on Jones' ghost workers, the rape in Champaign, and other items. He is loyal to the Administration."
That's from an e-mail sent at 2:04PM on July 31, 2012, by House Speaker Michael Madigan's consigliere and ultimate Statehouse insider Mike McClain to then-Governor Pat Quinn's chief legislative liaison, Gary Hannig, and Quinn's former chief of staff, Jerry Stermer. The message came to light after WBEZ reporters Tony Arnold and Dave McKinney filed Freedom of Information Act (FOIA) requests for all e-mails between McClain and e-mail addresses for all gubernatorial chiefs-of-staff during the last ten years.
McClain was trying to save the job of fellow Quincy resident and state employee Forrest Ashby, who was facing disciplinary action the following day by the state's Department of Corrections.
To my eyes, it sure looks like McClain was weaponizing the cover-up of alleged multiple felonies involving ghost-pay-rolling and rape to protect his guy.
And this is very, very important to keep in mind: McClain had to believe that Hannig and/or Stermer knew about those allegedly covered-up crimes and understood that the exposure of those crimes would severely damage Governor Quinn's administration, or his pitch couldn't possibly work.
Neither Hannig nor Stermer replied to McClain's e-mail, but Ashby's disciplinary meeting was postponed, and McClain sent a follow-up e-mail on August 1: "I do not know what happened but I know nothing happens accidentally." He then thanked both men.
I have so many questions: 1) Who is the rapist and how would his exposure, um, "encourage" the Quinn administration to help McClain's guy?; 2) What's this "Jones' ghost workers" thing about?; 3) What kind of a person weaponizes a rape cover-up for patronage?; 4) What kind of a person puts that sort of thing into a FOIA-able e-mail?; 5) Did the Quinn administration put its finger on the scale after McClain's implied threats? and 6) If McClain would go that far over the top with the governor's chief of staff and chief legislative liaison, what did he write in his internal ComEd e-mails that have all been subpoenaed by the feds?
The answer to that last question, according to sources within ComEd, is "a lot." The man over-shared. Hold on to your shorts.
This blockbuster WBEZ story has rocked the House Democratic world like nothing else that has come before, and for good reason. McClain's obvious penchant for saying things he shouldn't via e-mail (the "magic" lobbyist list, the "magic" spreadsheet of contribution bundlers, funneling money to the brother of Speaker Madigan's alderman after he was accused of sexual harassment and fired, etc, etc) might potentially bring down the entire empire.
Speaker Madigan's press secretary wouldn't comment on the record, but House Majority Leader Greg Harris told me: "The reference to a rape cover-up is shocking. It is good that the Governor's Office has referred this to the appropriate authorities for further action." Governor Pritzker, whose campaign hired Ashby to do faith-based outreach at McClain's request, forwarded the case to the Office of Executive Inspector General.
"This e-mail is horrific and troubling," said Representative Sara Feigenholtz (D-Chicago). "Since when should someone be rewarded for covering up a rape? Women deserve respect, not cover-ups. The Champaign County State's Attorney, and people with the proper authority, should open up an investigation and start handing out subpoenas to get to the bottom of this."
After some initial hesitation, the Champaign State's Attorney (Julia Rietz, a Democrat) has agreed to investigate, and claimed Friday that she was working with the state attorney general, the state police, and the US Attorney in her area.
I would add, we also need to know if those "Jones' ghost workers" are still on the state payroll and who put them there and who this "Jones" is. I have my suspicions, but that's all.
McClain was Speaker Madigan's top guy for decades. He acted in Speaker Madigan's name the entire time. Speaker Madigan has denied knowledge of anything in that 2012 McClain e-mail. But it just seems unlikely to me that his top advisor apparently had significant dirt on the Quinn administration and he was kept totally in the dark. Proving otherwise, however, could be very difficult if not impossible.
When George Ryan was elected governor, I said his friends would damage him much more than his enemies. That eventually happened to Ryan, and it's clear to anyone with eyes that the same thing is happening to Speaker Madigan.
Rich Miller also publishes Capitol Fax, a daily political newsletter, and CapitolFax.com.