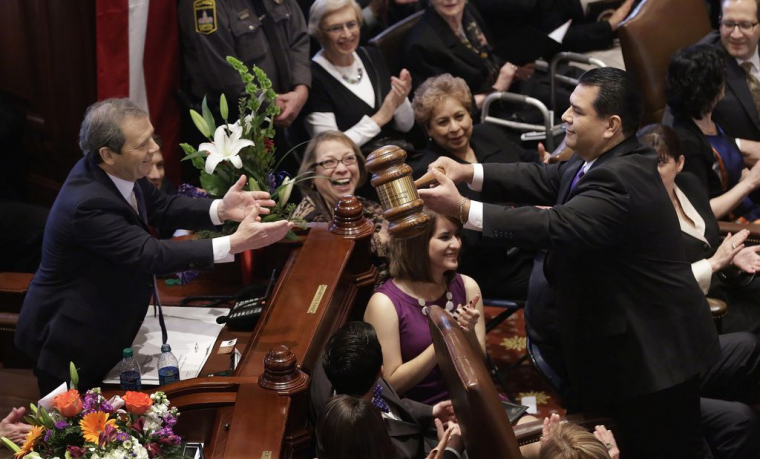 Much will change at the Statehouse when Senate President John Cullerton retires in January, a year before his term expires.
Unlike his House counterpart, House Speaker Michael Madigan, Cullerton always wanted to find ways to get things done — and he got a lot done.
He's a kind, approachable man who prefers bipartisan statesmanship but relishes partisan battle whenever the times call for it. He's smart and funny and has managed to keep a diverse caucus together without resorting to intimidation, like his predecessor routinely did.
And, frankly, he's been very good to me over the years, always taking the time to talk. If he disagreed with something I wrote about him, he'd call me himself and make his case instead of ordering some underling to do it or give me a cold shoulder. The state will be lesser with Cullerton's retirement, but a lot of us will miss him.
OK, enough with the mushy stuff and on to the future.
Senate Majority Leader Kimberly Lightford (D-Maywood) told me she's running for Senate President. She will be formidable because she's well-liked, she's already in the second position, and she'd be the first woman of color to lead that chamber in Illinois history. Not to mention that she has strong leadership skills.
As a friend said, Lightford can either be the next Senate President or make the next one. If she can cobble together a coalition with one or more of the other people I'm about to mention, she may very well end up in the chamber's top job.
One of the ways Cullerton convinced his fellow Democrats to back him for Senate President in 2009 was to demonstrate how much money he could raise. He took in more than $750,000 in the four months after Senate President Emil Jones announced his retirement. That may seem like a quaint amount these days, but it was enough to impress his colleagues back then.
On fundraising alone, State Senator Heather Steans (D-Chicago) should be considered a serious contender. She has the connections and the ability to raise big cash and helped Cullerton raise all that money in the run-up to his Senate President bid. She's also an experienced budget-negotiator and has serious policy chops.
State Senator Tony Munoz (D-Chicago) was perhaps the leading contender last year to replace Cullerton when he quietly told select members of his leadership team that they might want to start lining up support to replace him. Senator Munoz appeared to be Cullerton's favorite right up until Cullerton decided to rescind his announcement because it was dividing his caucus and damaging his ability to maintain power. Senator Munoz had been expected to get a primary opponent this coming spring, but nobody has yet surfaced, so that helps his bid. Senator Munoz is very popular within the caucus, has powerful allies, but he was close to State Senator Martin Sandoval (D-Chicago), whose Statehouse office was raided by the feds in September, so we'll see how that plays out.
State Senator Don Harmon (D-Oak Park) was the other leading contender for Senate President last year. Since then, he was moved out of the Senate Executive Committee chairmanship and given a paid leadership job. It seems certain that he will throw his hat into the ring. He has policy, campaign and communication skills and has some support within the caucus.
State Senator Andy Manar (D-Bunker Hill) is Cullerton's former chief of staff, is perhaps the most media savvy member of his caucus and is super-close to Governor JB Pritzker, who could turn out to be an important factor here. A Pritzker-negotiated Lightford-Manar ticket might work. Senator Manar's biggest hurdle is that he represents a swingy, Republican-leaning district. His people love him there, but he will technically be on the political bubble every time he's on the ballot.
State Senator Melinda Bush (D-Grayslake) describes herself as a dark horse candidate mainly because of her relative newness to the chamber (elected in 2012) and her outspokenness on ethics. But she's built a formidable political organization in Lake County, so she has campaign skills.
State Senator Elgie Sims (D-Chicago) also said he's looking at the job. Sims worked his way up Senate staff to run the appropriations team. He served in the House before moving to the Senate.
I'm sure there will be others, but the field will eventually winnow as deals are cut. And whoever wins the job will have to run again in a year, after the current General Assembly adjourns. The new President won't have long to prove that s/he is up to the job.
Rich Miller also publishes Capitol Fax, a daily political newsletter, and CapitolFax.com.