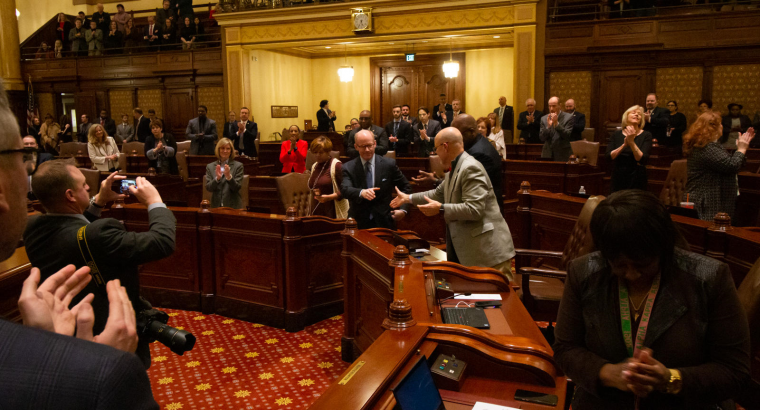 Give new Illinois Senate President Don Harmon (D-Oak Park) some credit. He's made a few very solid moves since January 18, when he was elected to his chamber's top job.
Harmon won a majority vote of his caucus before the full Senate voted. He had at least some support from just about every Democratic faction. Illinois State Senator Kimberly Lightford is an African-American, but Harmon received several votes from people of color. Down-staters voted for both candidates, as did women. A majority of the "X Caucus," a loose confederation of more conservative members, went with Harmon, but at least four voted for Lightford. Suburbanites were split, and so were Chicagoans.
With the factions all over the place, putting a deal together wasn't easy. But after several tense and sometimes contentious hours, Harmon emerged victorious.
Hard feelings remain. Some Senators apparently just up and lied to Senator Lightford about whom they were supporting. But Lightford will remain Senate Majority Leader, and her supporters in Senate Democratic Leadership were protected. President Harmon made peace, and he has time to work things out before he has to run again in less than a year.
Governor JB Pritzker has denied it, but people close to him were indeed working hard on Senator Lightford's behalf. Governor Pritzker and Harmon have known each other for over two decades, but Harmon endorsed then-Senator Daniel Biss in the 2018 gubernatorial primary over Pritzker, and things kinda soured after that. The two are ideologically very close, however, so they should be able to work things out, but I'd bet the Senate's appointment confirmation process, among other things, might get just a wee bit tighter in the near term.
The night he was elected, Harmon sat down with his entire staff. Employees had been fretting about their futures ever since John Cullerton unexpectedly announced in November that he would be resigning soon.
Staff members are people, too, after all. Many have families to support, mortgages and tuition to pay, plus the all-important health insurance. They'd been walking on eggshells ever since Cullerton's announcement, wondering what their future holds.
President Harmon, according to spokesperson John Patterson, told the all-staff meeting "he looks forward to working with everyone and was counting on staff to help him during this transition and heading into what we expect will be another successful and productive session."
The highly-unusual mid-term resignation of a sitting Senate President plopped Harmon into uncharted waters just a week before the General Assembly was scheduled to return from its long winter break. Replacing key staff members in mid-stream would've been difficult and perhaps even risky. He needs to get up to speed right away, and he couldn't do that if he brought in new folks to run the day-to-day operation.
President Harmon will eventually have to decide what he wants his staff to look like. But it was a smart, grown-up move to stick with the status quo for a while. The staff Harmon inherited is efficient and capable. There was simply no pressing need to make any major immediate changes.
In some ways, Harmon is old-school. He runs one of the few truly active Democratic township organizations in Cook County and he has indulged in the tradition of working at a powerful law-firm while serving. But he's also the first-ever member of "Generation X" to lead a legislative caucus and preside over a chamber here. He loves playing guitar and he attracted the votes of the younger members in his caucus.
Harmon strongly signaled that we've entered a new era during an appearance later in the week on Chicago Public Television's "Chicago Tonight" program.
Harmon has worked at a politically-connected Chicago law-firm for the past 15 years. He has done bond-work for municipalities, and his firm has represented several state agencies. He has said he was as diligent as possible to avoid conflicts of interest, but now that Harmon has the chamber's top job, it was a sure bet that questions would at least be raised.
So President Harmon told Amanda Vinicky during the WTTW interview that he plans to step down from the firm. He'll avoid any conflicts and he can devote himself full-time to his new role.
This almost never happens in Illinois government. Just the opposite, in fact. When people move to the top of the legislative food chain, they generally ramp up their, um, marketability.
He's making the right moves so far. We'll see how he does in the future.
Rich Miller also publishes Capitol Fax, a daily political newsletter, and CapitolFax.com.