For our fall photo contest, we made your job easier, and ours harder.
We asked for photographs of babies and pets for this year's contest, and we received 166 entries.
The volume of photographs was challenging enough. But the subject matter made our decisions all the more difficult. Who could possibly vote to ax that adorable little tyke? (Well, aside from mean ol' Jeff Ignatius ... .)
It must be noted that the cuteness of the photo subject did not factor into our judging. If you entered and are not among the winners, rest assured: Your child, dog, cat, snake, or monkey is absolutely precious.
But that alone wasn't enough. We were looking instead for strong composition, emphasis on telling detail, appropriate and/or interesting lighting, and above all expressiveness. All of these photographs share one thing: They distill and reveal character and personality.
A selection of the 13 winners can be found in these pages. All the winning photos can be found at RCReader.com.
We decided not to award first, second, and third prizes or honorable mentions with this contest. Seriously: They're kids and pets; who can choose a favorite?
(Cover photo by Susan Mohr Krupke)
Teresa Ousley
I shot this photograph of newborn Preston Tennant - son of Aaron and Erin Tennant of Orion, Illinois. Preston was born six weeks premature and was photographed on his actual due date.
Suzanne Kiss von Soly
They were my guinea pigs Oakey, Doakey, and Piglet (in middle) - dad, mum, and baby - who lived to old ages and loved eating watermelon in the summertime.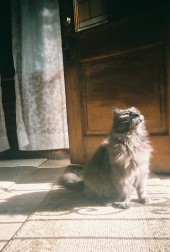 Brandy Ramsey
I took this picture of Imhotep using just a disposable camera in natural light. Sadly, Imhotep passed away earlier this year. We're happy to have him memorialized in this manner.
Melissa Ware
Tim Longoria
This photograph is of my 11-year-old chihuahua Lucent. He loves finding the best sunlight, and then curling up into a tight little ball, almost like an armadillo. This photograph probably captures Lucent's personality the best.
Jonathan Jones
Laughs in the leaves. Jordan Jones, four months, enjoys a late October afternoon at Duck Creek Park in Davenport. Canon EOS 30D, f/3.2 at 50mm, 1/640, ISO 400, manual exposure.
Glen Marten
This photo was taken in our hallway one morning with the sunlight coming through. Kulwiki was just sitting there, half in, half out of the sunbeam. Hand-held at 1/160th at F/4. Kodak P880 camera.
Shelley Shaner
After Winston takes a dip in the pool, he shows us his muscles in his own cool way: He flaps them up high like a bird.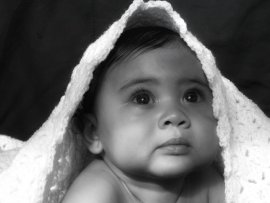 Treva Haney
This beautiful image of my good friend's baby (Ashyia) was captured with a simple point-and-shoot digital Kodak camera. The light source was that of a large window; no flash was used.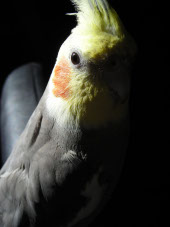 Ashley Finley
It took days to capture this shot with the 10 a.m. lighting. The subject, my male cockatiel Kaola, never stays in one place or position for too long!
Tiffanie Weaver
Tony Logan