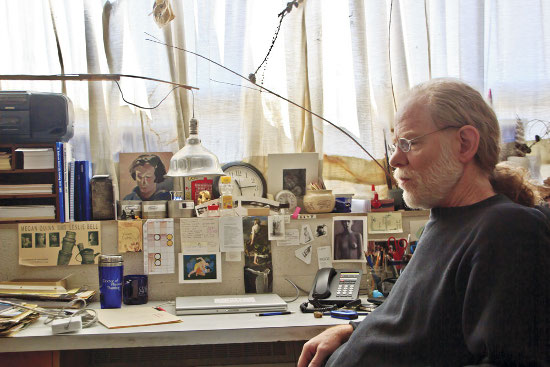 One minute, St. Ambrose art professor Leslie Bell is talking about his paintings - mostly allegorical scenes featuring women and girls. The next minute he's talking about his students - especially the female ones - without having shifted gears.
"On a really basic level, I'm trying to kindle a spark of quirky individuality in each person I paint," he said in an interview last week. "I don't want them to come across as generic. And ... through body language, environment, to a lesser extent facial expression - because my characters tend to be a little bit on the deadpan side - even fashion or dress ... I want to communicate a kind of self-made-ness."
He then says he doesn't want to be cheesy - the simplistic idea that girls can be carpenters or play chess: "I want it to be more what we deal with everyday in the studio, which is following what you're interested in, sort out the 'should' voice in you ... , acknowledge that there is peer pressure and that there are societal pressures and that there are laws, but then make as much use of the freedoms that you have to cultivate your interests, develop your interests, don't be ashamed to be an intellectual, fight me as a professor ... ."
One can see that shift happening even more quickly here, in a single sentence: "I want my work to be really affirmative of women's and girls' abilities to create themselves, to stick to their own ideals, to find ways of proving to whoever might be skeptical of what it is to be a woman artist or just a woman that there are as many paths to maturity as there are people attempting to mature."
This conflation is illuminating, as Bell's artistic interest in female experience and identity seems inseparable from his teaching responsibility to help young artists develop their own voices. He notes that well over half of the students in the St. Ambrose art department are women, and it's easy to infer that his painting is akin to homework, a way to develop empathy and connections with his female students. They're also a way of leading by example, of showing through art a path to authenticity.
But the teaching comes at the expense of his painting, and Bell wants to focus on his art. After 38 years teaching at St. Ambrose - from which he also earned his bachelor's degree in 1972 - the longtime professor is semi-retiring at age 64, cutting his teaching load in half in the fall. "I think 38 years is a good run," he said. "It's really an intense commitment to a single organization. ... I just dedicated myself to St. Ambrose."
Action-Packed
Bell called the reasons for his retirement from full-time teaching and its timing "complex," but he quickly said he wants to dedicate more continuous time to painting. "I love oil painting," he said. "I don't have enough time to do it as much as I would like to and to perfect it and to become more ambitious with my use of it."
Bell said that he loves his job, but it hinders his ability to grow as an artist. "Semester starts, everything [with painting] stops. Semester ends, I try to prime the pump, get back in the studio. And it's a complicated process. It takes a month just to re-establish my connections with all the tools and some of the rudimentary ideas. And I don't want to be working with rudimentary ideas. I want to develop them in a much more mature way."
It's not merely the physical process of painting to which he plans to dedicate himself; he also said he wants to work on the intellectual underpinnings of his subjects. "I like to think of my work as really strongly but subtly feminist, and there's a lot of stuff I want to read about," he said, giving as an example a book about the societal pressure on girls and young women to project sexual availability. "I'm interested in being part of the solution," he said. "I feel like I need more academic information from other fields to give me insight into what my paintings are about. Because I paint people doing things, thinking things, interacting, and I want to make sure that I've got the ammo to get that right."
Bell, who said the decision to cut back on teaching started more than five years ago, also cited reasons beyond his own artwork.
"I guess I've seen people hang on indefinitely and take out their same old tired syllabus," he said. "I wanted to be lively all the way through my teaching career. I wanted my students to be challenged at a level that I felt like they were getting their money's worth. I don't want to come in distracted. I don't want to come in tired. I just want it to be action-packed."
And he emphasized that he'll be leaving St. Ambrose's art department in good shape. "The programs are all going gangbusters," he said. "It seems like we've ironed out a lot of bugs. I've been chair enough to be not in charge but at least at the helm at times when we made some pretty major decisions about what the program was going to look like. Now those have had the chance to run through multiple cycles and become quite effective. ...
"Retirement at a point where the department is really clicking ... [is] a lot more exciting than bailing out out of desperation ... ."
---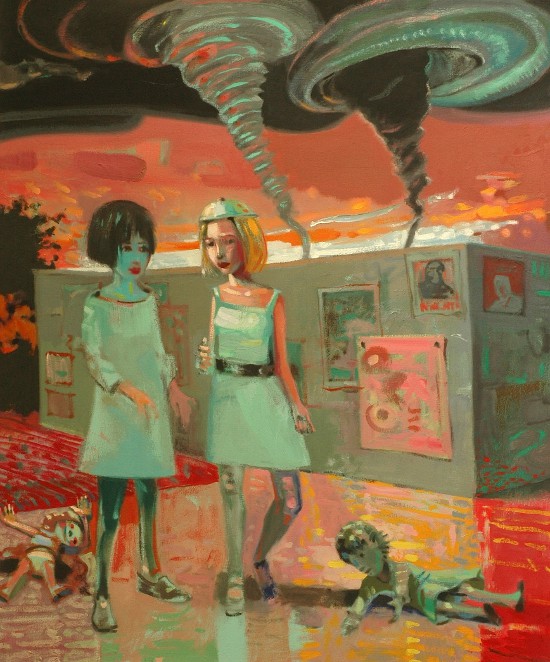 Bringing Out Authenticity
Bell studied at St. Ambrose under the legendary and demanding Father Edward M. Catich, who "released" Bell and some other students from the art program in 1967 for not meeting a two-sketchbooks-per-semester drawing requirement. After moving to the English department and then focusing on his band, Bell returned to St. Ambrose to finish his art degree.
The pair taught together for five years, until Catich's death in 1979, and Bell noted the growth of the program during his own tenure of almost 40 years. In 1974, there were roughly 35 art majors; there are now approximately 135.
Under Catich, St. Ambrose's art program was mostly a general one. There are now five majors: art education, fine art, graphic design, book arts, and art history.
When Bell was hired, he said, there were four full-time faculty members and an adjunct. Now there are five full-time faculty members with another soon to be hired in graphic design; adjuncts in four areas; and teaching assistants in two areas.
Bell doesn't claim credit for this growth. He said that he and fellow art professor Kristin Quinn - the current chair of the department - have worked to augment Catich's foundational system with more specialization.
"When he [Father Catich] died, it was like, 'Okay, what are we going to do?' He called a lot of the shots," Bell said. "And it really took Kristin coming on a number of years later [in 1989] ... that we started to really hit critical mass. ... We had to build our own unique program." Their different painting styles - his figurative, hers not - made them good complements, as they helped students see different approaches to the picture plane.
When she started, Quinn said, St. Ambrose "really taught the Catich curriculum, so a lot of calligraphy. Real strong in foundations - a lot of drawing, letter forms, a lot of art history. More of a general art degree - they did a little of everything. ... I think we just brought the curriculum more online with other programs" by adding majors to that core component.
That's just one aspect, though. "One of the goals that Kristin and I set for ourselves a while ago was get more kids in grad school," Bell said. "And then it became [to] get more kids in grad school with bigger scholarships ... . That's really come to fruition in a cool way. ... Any person who has wanted to go to graduate school from our fine-art program has."
He offered the example of Andrew D. Moeller, who graduated from St. Ambrose in 2005. He got an MFA from the University of Iowa and now works in New York City on his own art and as a technician for Jeff Koons.
"The people who are coming after him are doing similar kinds of things," Bell said. "So we're sending people to California and New York schools, and Chicago ... . That's taken some engineering and some time, because that means that Kristin and I have to coach individual students a lot and write these intense letters of recommendation. But the payback is that these kids have been going out in the world and really causing a ruckus."
After his St. Ambrose graduation, Moeller wrote in an e-mail, he was sleeping on friends' floors and carrying around minimal possessions - "a change of clothes, cans of SpaghettiOs, and an answering machine so that I could be reached. (I couldn't afford a cell phone.) Les and the equally terrific Kristin Quinn combined to offer me side jobs of stretching canvas and working the Catich Gallery desk that allowed me to survive. I ferociously made paintings all through the night in space that they were kind enough to temporarily let me work in. It was this time that I made the body of work that would get me into graduate school and get the ball rolling for me as a serious artist. Without this time and their support, I very well would not be where I am today."
Local art educator Heidi Hernandez, a 2006 St. Ambrose graduate, wrote that "Les would always open class with deep thoughts - not like on Saturday Night Live, but real intellectual discussion about an artist or art-making in general. I remember in one of the first painting classes I had with him, he talked about the difference between being a serious painter versus a hobbyist - how you need to have drive and determination to paint all the time, especially when you don't feel like it. This is something that lingers in the back of my mind when I find myself not painting and falling into the pattern many people do - work, eat, sleep. I strive to keep that 'serious painter' alive and look up to artists who devote so much time, as Les does, to their craft."
"He has very rigorous standards," Quinn said of Bell. "He's very motivational. He's an incredible role model ... . I think we have students who really come out as individuals, and Les is really so fantastic at getting students' authenticity out. ... He's really caring. He really knows the students, he knows how to push them, he knows their potential. It's just a lot of one-on-one work we do here so we can really get them to open up to that level, to really mature their work."
Better at Fewer Things
These days, Bell works primarily in oils, but his current Catich Gallery exhibit Telling Stories hints at his varied career. The show includes 10 paintings finished in 2011 and this year, but it also features a series of photographs from the mid-1980s. "A lot of my students have no idea that I've ever been a photographer," Bell explained. "But I was very intensely a photographer for years and showed on both coasts ... . So I thought it would be fun for them to see a completely different aspect of me - black and white, small, view camera, no enlargement ... ."
He mostly gave up photography in the middle of the last decade, a decision made in part because the advent of digital photography created barriers both as a teacher and an artist: To teach photography in this new age would have meant intensive learning of new tools, and the nature of digital itself erased for Bell some of the appeal of photography. The cost of a roll of film and a limited number of exposures forced a photographer to work carefully, he said: "I put a lot of value in finding meaningful information in the world within a frame and choosing that, and having the trip of the shutter be a decision that's somewhat irrevocable. I liked the struggle of finding or building in order to be photographed."
Bell is also a songwriter, guitarist, and harmonica player with a long history in the Quad Cities music scene, starting in the mid-1960s and including the band Music from the Orphanage (in the late '60s and early '70s). His last paying gig, he said, was in the late '80s, as a member of the pit band for Big River at Circa '21.
"I want to get my callouses back," he said of spending more time with music in semi-retirement. "I want to write songs. I want to sing more. ... It's been a long time since I've been in a band. ... I would like to see what would happen when I would add 30 or 40 years of intense listening to all kinds of music and to hang out with some other musicians ... ."
As a painter, Bell mainly worked in acrylics up until around 1994, when Sara Hanson - the woman who's now his wife - "convince[d] me of what an idiot I'd been to try oil-ish things for 20 years with the wrong medium," he wrote.
Quinn said she saw a major change in Bell's work with that switch, particularly in the "luminosity and intensity of color and ... the variety of paint-handling."
The decisions to shed other artistic pursuits, Bell said, were a function of "how excited I am about oil painting and the subjects I'm working with. ... I used to be all over the place. And I just found I wanted to be better at fewer things."
---
Power Figures
As many will say, though, Bell's painting is already highly accomplished. His work is in the collections of the Figge Art Museum, the Erie Art Museum (in Pennsylvania), the State of Iowa, and the Ohio State University, and it has been represented in galleries in Chicago, Atlanta, and Tampa. He's had shows in California, Colorado, Georgia, Michigan, Texas, and Virginia. And Bell has gotten grants from the Iowa Arts Council and Quad City Arts, and a regional-visual-artist fellowship from the National Endowment for the Arts through Arts Midwest.
"He's a really brave painter," Quinn said. "He's always making the paintings teach him something. I think that's really a good hallmark for our students. He doesn't take the easy route."
She also said the hard work is apparent in the paintings themselves: "He's really brazen. He makes radical changes. Paintings get painted, unpainted, repainted. You can see questioning going on. You can see past life in the work. You can see it evolving. ... It almost feels like there has been an era that has happened in the work. They evolve; they're not just pictures. It's almost like they're little worlds."
The worlds in Telling Stories, Bell said, are smaller, however - a hint at how teaching and life have restrained his art.
He said he had a plan last summer to do smaller paintings "and then springboard into some larger paintings." But because his family had to clear out and sell the house of his deceased mother-in-law, "I just had to say - and this was a little hard for me to say - 'These will not be quite as ambitious as the paintings I was hoping to get to this summer, but I want to be satisfied with that. ... I want them to be more essays than highly accomplished short stories.' I decided I wanted them to be a little tighter, a little more descriptive, a little more detailed, a little bit less gestural and expressionistic just to prove to myself that I could do that. And that they could also be wonderful for what they did contain rather than being weak because of what they didn't contain. ...
"Not only are they smaller, but they're simpler, there are fewer figures, less complex compositions, less painterly in terms of broken color, variety of sizes of brush marks, and all of that stuff that delivers emotional messages. And I sort of polished smaller stories, and actually I'm pleased with them. Even the color is less diverse. ... But I like the variety of them."
Despite being less ambitious, they retain Bell's intense focus on young women. He described his subject as "that transitional phase of going from girlhood - which is not as innocent as people give it credit for - to kind of the stable, mature identity, and all of the complexities in there."
I've long been interested in that aspect of his work - a man mostly painting women - and I've broached the subject with him several times. Last week, I said to him, "It seems like you're making your job harder by choosing the subject you've chosen." He replied: "That's for sure. ... I've had a lot of problematic incidents in past - [but] rarely coming from women."
Some people have viewed his choice of primary subject - combined with his matter-of-fact use of nudity and sexuality - as sexist. He said that he once got a formal letter from a prominent local attorney about a show at Quad City Arts, saying he wouldn't let his wife or daughter see the exhibit. "It was really scary how much anger this man had," Bell recalled, "but it was such a superficial read of my work."
The problem Bell creates for himself is operating in a culture of the sexual objectification of women without censoring himself - in other words, not responding to that context by sterilizing his work. "My big struggle in these paintings," he said, "is that the whole issue of the male gaze has been such a big problem since the '60s - it's sort of like an institutional course of study to see how men have looked at women ... - and I attempt to be very respectful of that. But at the same time, I really don't like the notion of a de-sexualized woman, of a woman who has sort of lost her sexuality in order to be able to perform in a painting. So I just want aspects of sexuality and sensuality to be a part of the deck. ...
"I am really trying to be a force for the good, a force for getting issues on the table and discussing them no matter how awkward they are. So a lot of the static I've had in the past, I've really tried to open up the doors of conversation with the people who had issues. And sometimes it's worked better than other times."
Quinn didn't hesitate when asked about Bell's choice of women as subjects. "I think he sees them as powerful, and I respect that," she said. "They're power figures."
A St. Ambrose Legacy
Given that Bell was a Catich student, and that their St. Ambrose careers spanned four decades each, I asked the sort-of-retiring art professor about his legacy compared to his mentor's.
Bell stressed that the Catich influence, with its emphasis on drawing, letter forms, and art history, remains alive at St. Ambrose. "All of us, full-time and part-time, regard that heritage with a lot of pride, and see the need for it," he said. "We've worked pretty hard to keep the hand in letter forms. To keep the finesse of Father Catich's drawing skills alive. ... Part of it is to honor his tradition, but part of what makes Father Catich's tradition so wonderful is that it's as flexible as it is."
The art department conducts a curriculum review every five years, and part of that is talking to people in the design community. Bell said he regularly hears that the basics of art are essential: "'Please, make sure you keep teaching art history. Make sure these kids can draw - confidently, academically, yes, but also be able to stretch that ... .' It's never gone out of fashion."
But building on that legacy was also crucial, Bell said. "I think part of the reason why he [Catich] hired me was because he knew I would do things differently, and that I was bringing news of a different world to here. And we didn't have a painting program. When I studied painting at Ambrose, it was watercolors - small - and it was about design. So I wanted to bring a contemporary fine-arts sensibility."
Still, Bell said, "I will not have a legacy comparable to Father Catich's, that's for sure. But my legacy was based on Father's legacy. Not Father as a calligrapher or a graphic designer, but taking my admiration for what his program stood for and continuing to modernize or contemporize that."
Quinn, however, had no problem casting Bell and Catich as equals - while acknowledging the likelihood that her statement would be seen as heretical: "I think he is comparable to Father Catich ... as far as the breadth of interest, the breadth of training. He's a real renaissance man, and that's what Father was. ... He advanced the legacy, I believe. ... He is going to be so missed."
Leslie Bell's exhibit Telling Stories runs through April 20 in the Catich Gallery inside St. Ambrose's Galvin Fine Arts Center (2101 Gaines Street in Davenport).