When Bill Hannan first met Jeanne Tamisiea in the 1980s, she was one of three finalists for a teaching position on the fine-arts faculty at Black Hawk College. "You could tell right off the bat that she was a teacher," Hannan said. "If you are a teacher, you can spot one."
Tamisiea "tried to connect immediately," Hannan explained. She made eye contact and asked questions, and the vibe was less of a job interview than a classroom in which Tamisiea was the teacher and her interrogators were her students. "Jeanne sat down to talk to us," Hannan said. "The other two [candidates] sat down to be interviewed."
After the interviews, Hannan said, the decision to hire Tamisiea was a foregone conclusion. "We only talked about her," he said. "We didn't talk about the other two guys."
That was the beginning of Tamisiea's 18 years teaching art at Black Hawk College. When she died on July 4 - she would have turned 58 on September 11 - she left a stylistically diverse body of artwork but also hundreds if not thousands of students whose lives she touched. "Her influence probably won't be known for another 20 years," Hannan said.
Tamisiea will be posthumously honored for her contributions to the Quad Cities artistic community with the Harley Award at this weekend's Riverssance activities. Her daughter Lyndsay will accept the award.
Invested in Students
David Murray, who has taught art at Black Hawk for the past six years, offered another job-interview story. He said that Tamisiea was on the committee that hired him, and even though the questions at the interview were prescribed, "she was genuinely listening," he said. "She was on the edge of her seat. She paid attention to every word."
That intensity was also evident in her teaching and her art. "She was extraordinarily invested in what she did," Murray said.
A testament to her dedication was the number of students that would come back to see her, often five or six years after they'd left Black Hawk, Murray said. "This was not an isolated thing."
When the students came back this past spring, though, Tamisiea wasn't there. In the fall of 2005, she had heart failure caused by a viral infection. Although she received an artificial heart as a stopgap until she could get a heart transplant, doctors were never able to eradicate the infection and therefore couldn't proceed with a transplant, Hannan said. 
Tamisiea initially came to Black Hawk with a background in both fine arts and commercial art. She had been a traveling art teacher but had also maintained a business in which she designed ads and store displays, among other things. "She had her hands in everything," said Hannan, who taught for 34 years at Black Hawk before retiring in 1998.
When she began at Black Hawk, the college had begun to emphasize commercial art in addition to fine art. "Jeanne was one of those people who fit that mold because she had practical experience," Hannan said. Tamisiea's art was "eclectic and fun," he added, and "we knew that it would fit our approach. ... It was very down-to-earth, very straightforward, but it was very articulate."
Beyond her skills as an artist and illustrator - and her interest in using computers as tools in art - Tamisiea distinguished herself through her classroom approach.
"She was constantly changing what she assigned because she was never happy with what she was getting," Hannan said. She viewed that not as a failure on the students' part; instead, she tailored the assignments to the students' strengths and interests rather than making them less difficult.
Art-faculty colleague Zaiga Thorson related a story from her first year of teaching. Thorson said she was frustrated that one student showed little interest in art beyond cartooning. "You'd think that by now he'd be past that," Tamisiea told her. "But maybe that's all he's got." Thorson said that the lesson has stuck with her. "It's not about what my dreams for the students are," she said.
Tamisiea also loved giving her students demonstrations; she wasn't afraid to show students her own process of making art. She was "confident enough to let them see her struggle," Murray said.
"It was always a risk in terms of putting yourself out there," said friend and Black Hawk colleague Isabel Hansen, who would bring Tamisiea into her children's literature class to talk about illustrating books for young people, matching up words and pictures. "My students were always [asking], 'Is she going to come back again?'"
Even with students that weren't her own, Hansen said, she was able to connect quickly. "She did this level of inquiry in which she'd try to draw them out," she said. For example, Tamisiea asked Hansen's students to describe how they felt the book world operated.
"She was very protective of her students," Thorson said. Under the pretense of getting something out of a cabinet, for example, Tamisiea "was kind of checking up on me," Thorson said. "It's a little test."
The teacher was also sensitive to students' financial situations, Hansen said. Art is an expensive course of study, she said, and Tamisiea would give students jobs who might not be able to afford art supplies otherwise. "She would always pick out certain students each semester," Hansen said.
"It's all about the students for Jeanne," Murray said. "They were her fuel, and her friends."
Her impact at Black Hawk wasn't limited to the classroom. She cataloged the college's art collection in 2003. And when Building 4 was being renovated in the late 1990s, Hannan said, Tamisiea essentially forced an art gallery on the architect. She showed the architect how the plans could be adapted, Hannan said, "and the architect didn't say no."
The ArtSpace Gallery was born, and it will soon be renamed in honor of Tamisiea, Hannan said. The gallery will also host an exhibit of her work sometime this fall, Hannan said.
The Search
Although known best for her illustrations - particularly the undulating, Grant Wood-inspired View of Rock Island - Tamisiea was adept at whatever medium she chose.
As Hansen said, nobody could look at her work and immediately identify it as a Tamisiea. Murray said that Tamisiea was fluent in many languages of art.
"There was always this evolving going on," Hannan said.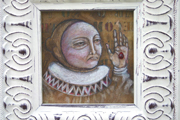 She did larger pieces in pastels and oil crayons, and also worked with opaque watercolors and acrylics. Near the end of her life, he said, she was painting with wax.
"She was never comfortable with any style she came up with," Hannan said. "There was a search going on there. ... She was not going to be happy with anything she came up with because she was always about the next thing."
That allowed her to move on from disappointments. Tamisiea had finished a children's book based on a folk tale, but it was shelved when an editor left the company that had planned to publish it. "She had already thought about another book that would be better," Hansen said.
"I don't think she would ever give up experimenting," she added. "She was too curious."
If there's a unifying element to her artwork, it's storytelling. "She's always been a storyteller," Hannan said. "Even in a work that was semi-abstract, there was a story," often implied by the title. "The intent there in the back of her mind was to illustrate."
Sometimes, even if it was unconsciously, it was her own story. In the late 1980s or early 1990s, she painted My Beating Heart. Her family had a history of heart trouble, but that work in particular seems prophetic. She gave the painting to her cardiologist.
Spiritual and animal motifs were common. She loved to go to the Niabi Zoo to sketch animals, but she wasn't necessarily interested in capturing the creatures themselves. "She was interested in the shape of the animal rather than the reality," Hannan said. The work found a middle ground between the representative and the abstract.
"She was really interested in organic shape," Hansen said.
In going through the artwork she left behind, Hannan has found at least 300 finished works (not including those that she sold), thousands of slides, and more than a dozen sketchbooks. "We know there are more," Hannan said.
"Jeanne drew all the time," he added. "She was a compulsive graphologist."
Her finished work was just beginning to catch up to her sketches. "She was just beginning to get to stuff [sketches] she collected in England," Hannan said, referring to a half-year Tamisiea spent in Canterbury three years ago.
That trip was particularly inspiring to Tamisiea, her friends and colleagues said. Instead of teaching classes, the college she was visiting gave her a studio and had her offer tutorials. That allowed her to focus on her own artwork instead of her students'. "That was so stimulating," Hansen said.
"I saw her relationship with her art growing," Murray said. "She was allowing herself to become more involved with her creating. ... I saw her, rather than stagnating, growing ... and expanding."
Although praised for her artwork, Tamisiea's teaching and community involvement will likely be her legacy. Behind the scenes, she was involved in the Quad Cities Arts Council and the development of the Figge Art Museum.
Hannan noted that previous Harley winners were either educators or influential people. "She was both," he said. "Only she didn't do it out in the open. ... Jeanne was a giant, but in a quiet way."
He added that Tamisiea broke down the common barrier between higher education and the community. "The teacher was in the community," he said, "not away from it."