Graphic Language: The Art & Literature of Comics (on display at the University of Iowa) traces the origins of comics, from the evolution of graphic style alongside printing technologies to their conceptual roots in satire and serialized short fiction. This path is well-defined through the chronological presentation of the works around the perimeter of the exhibit, and the inclusion of early images that are not yet "comics" yet were clear stepping stones for the medium.
Additionally, Graphic Language highlights the craft and technique of the individual comic artists. When converting hand-crafted images to reproduced prints, the subtle gestures of the hand of the artist are often lost. The original works, up to twice as large as their printed counterparts, show these subtleties. The explanatory labels and signage emphasize this point, and note the individual craft behind a usually mass-produced and commoditized medium.
Graphic Language is on display at the Black Box Theatre in the Iowa Memorial Union through December 11. This collection presents original comic-page hand-drawn art, historical and contemporary fine-art works, artist books, collectible figures, and toys. Between the work on the walls and the design objects in the cases, there are hundreds of images to contemplate. The volume of material helps illuminate the subtle evolution of the medium over time.
A viewer can follow the works around the outside of the room, seeing the progression from 18th Century satirical prints to modern graphic novels. Analysis of Beauty, Plate I, by William Hogarth - one of the earliest overtly satirical artists - shows the roots of comic style. These two engravings from 1753 are each about 18 by 24 inches. Plate I shows a scene of a courtyard full of famous classical sculptures appearing in various stages of installation, with some being held up by scaffolding or hanging from pulleys. Scattered throughout the yard are drawings of anatomical studies.
These serious works are contrasted with the border framing the scene. It's a sequence of boxes containing illustrations of then-modern fashion trends, as well as reproductions of serious anatomical prints by the then-historical master printer Albrect Durer. This border is a clear predecessor to comic panels, showing multiple images, in a sort of sequence, separated by boxes. The frivolous images of ephemeral consumer items on the border are presented in a serious, scientific tone.
These falsely serious items binding a scene of classical art provide insight into the line between fine art and visual culture, and the effect of context and history on aesthetic. The interior scene shows how even "high art" has utilitarian roots; it is still crafted and installed in a very physical way. This is compared to elevated popular-culture objects, viewed with reverence one moment and disregarded soon after. This message seems especially poignant in a show about comics.
An early combination of satire, simplified style, and integration of words with images can be seen in a selection of prints from Francisco Goya's late-18th Century, 80-print Los Caprichos suite. These etchings show donkeys and monkeys engaged in human, even academic, behaviors. Below each image is the title of the print in script.
Tu Que No Puedes, or Those Who Are Unable, shows two humans bearing donkeys on their backs. The donkeys appear smug, and wear spurs, with the men bent awkwardly under their weight. The background shows an empty horizon and a cloudless sky. All the characters look at the viewer. Goya's work frequently criticized the Spanish society of the time, and Tu Que No Puedes presents class division and exploitation through an exaggerated and graphic image. The donkeys, as they are more powerful and "able," should be doing great societal works. However, they are instead using the humans, symbolizing the over-worked and under-compensated lower class.
During the late 19th Century, comics in their modernly recognizable form - with panels, text balloons, and a simple yet overstated style - emerged. The exhibit provides several originals from this era, and given that even prints of comics from this period are hard to come by, the original art is a rare glimpse into the artists' process.
A large comic page from Tailspin Tommy shows how much illustrative talent went into even early comics. This 24-by-18-inch panel is made with brushed ink, showing a scene of two men in African-safari-like clothing participating alongside an allied native tribe in an armed conflict. This page seems startlingly modern in style, with flat colors, hatching, dark outlines, and dynamic poses, capturing the exciting storytelling that pervades comics.
The so-called Golden Age of comics, referring to the increase in complexity and popularity of comics from the 1930s to '60s, is well-represented in the exhibit. Penciled and inked original pages from comic-art greats such as Joe Kubert and Jack Kirby reveal the emergence of stylistic graphic symbols and extreme perspectives to best express the tone of the story.
This approach can be seen in page 10 of Kirby's 1968 Captain America #104. Captain America is captured by nemesis Red Skull, who attacks him with his "neuro-rod." The rod radiates wiggly lines - a symbolic depiction of invisible forces. The final panel shows the implied power of the rod, as well, with Captain America's head, lying on the ground in the foreground, with a foreshortened Red Skull kneeling above him. The forced perspective accentuates the danger and drama of the scene.
During the 1960s, "alternative comics" emerged, with messages of pulp stories, sexuality, and social criticism. We see this style in a black-and-white page from R. Crumb's Mighty Power Fems Versus Horrible Homuncoli. This outrageous scene shows impossibly muscled, scantily clad women teaming up to destroy a stock exchange, while business-suited men flee in shock.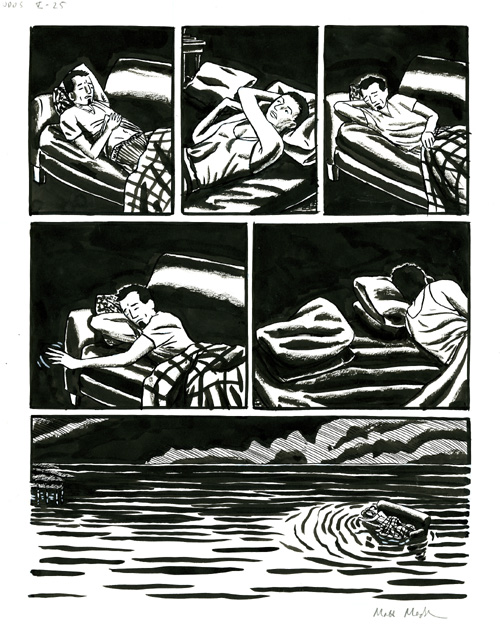 The exhibit also shows a variety of contemporary comic pages. The superhero genre's modern process, with a team of artists working in steps on pencils, inks, and colors, heavily implementing digital media, is demonstrated in page 22 from Spider-Man & Black Cat #4 by Terry and Rachel Dodson from 2005. Indie comics, with a loose and expressive style, are represented by pages from contemporary creators Jeff Lemire and Craig Thompson.
A collection of hundreds of action figures, and limited-edition vinyl collectible figures, is also displayed. And the impact of comics on fine art is evident, with original paintings by renowned artists such as Roy Lichtenstein and Raymond Pettibon.
Graphic storytelling spans centuries, genres, styles, and cultures, influencing and crossing over media and arts genres. Graphic Language demonstrates this breadth in a thorough and informative presentation.
Michelle Garrison is a mixed-media artist who teaches art and design at Geneseo Middle School. She can be reached at michelle_m_garrison@hotmail.com.