Jessica Teckemeyer's Fawn or Foe is both a cuddly creature and a disturbing monster, with a lifelike aura that defies the porcelain from which it's formed. In this year's Rock Island Fine Arts Exhibition, the piece stands out as a strong marriage of technique and subtext.
Similarly, Kristin Quinn's Flyway offers a modern sensibility and expression that differentiate it from an exhibition full of technical skill yet often lacking stylistic flair, nuance, and ambiguity.
While those two works are exceptional, there's also a strong vein of realism in the show, and several artists conjure meaning through an abstract approach - but without quite reaching the resonant standard set by Teckemeyer and Quinn.
Featuring 51 pieces by 40 artists within a 150-mile radius of the Quad Cities, the 36th-annual exhibit is on display in Centennial Hall at Augustana College through April 22. Juror Joseph Mella, the director of the Vanderbilt University Fine Arts Gallery in Nashville, Tennessee, awarded prizes sponsored by the Rock Island Art Guild and Augustana College.
The winner of the Three-Dimensional Entry Award in Memory of Zeivel Harris, Fawn or Foe is gently but distressingly surrealistic: Dubuque, Iowa's Teckemeyer sculpted a hybrid porcelain animal with a detailed, realistic approach. Its body is that of a lying-down fawn, with perfectly modeled spindly legs, showing bone and sinew underneath a velvety fur. The hair toward the creature's back appears longer and coarser, leading down to a long dog's tail. The head is altogether different, with a smooth surface, and a snout resembling that of a leopard.
Disconcertingly, the beast's head is hollow - like a mask - with empty sockets instead of eyes. This ghost-like face attentively stares, looking to the side, with a slightly crooked neck. The whole piece is matte white, adding to the ghostly feel.
The success of this sculpture comes from its mystery and feeling of impending action. The pose itself is moments from motion - it looks like the animal was startled awake - heightened by the realistic detail of tensed muscles. The composition of the sculpture also gives a feel of potential energy through the diagonals formed by the legs, the tail, and the neck. The creature itself is enigmatic, especially with its hollow eyes and vacant skull. As the title suggests, it seems both benign and dangerous.
Davenport artist Quinn's first-prize-winning oil on canvas Flyway grabs visitors' attention immediately. It's around five feet tall, vibrantly colored, dense with complex shapes, and hung across from the gallery entrance. Flyway shows an eye-level view of a bridge over water seen through dozens of low-hanging branches. The branches and bridge are varying hues of red and yellow, with hints of purple. The branches form a frame around the composition, creeping in from all corners. The sky, starting as contrasting, realistic blue, fades to white as it nears the horizon. The waves and branches are flat, lacking shading or texture. The bridge is also flat red, with its support beams echoing the lines of the limbs. Toward the center of the canvas, there are small silhouettes of birds in flight, which the title presumably references.
Quinn's work is a modern take on the traditional landscape, featuring architecture, flora, and fauna. But while the use of space and shape is realistic, the extreme coloration and simplification makes them function more as graphic elements, or brush strokes and splatters in an Abstract Expressionism-style painting.
Although saturated hues and a multitude of lines are normally visually overwhelming, the limited color palette and strong sense of horizon provide stability here. Quinn's painting is stimulating, pulling back short of chaos, and pairs traditional subject matter with contemporary aesthetic. The relatively small size of the birds also adds interest, and they visually imply a conflict between humankind - represented by the bridge and unnatural colors - and the environment.
Among artists working in realism, the best were able to cultivate an emotional tone with straightforward subjects yet masterful technique.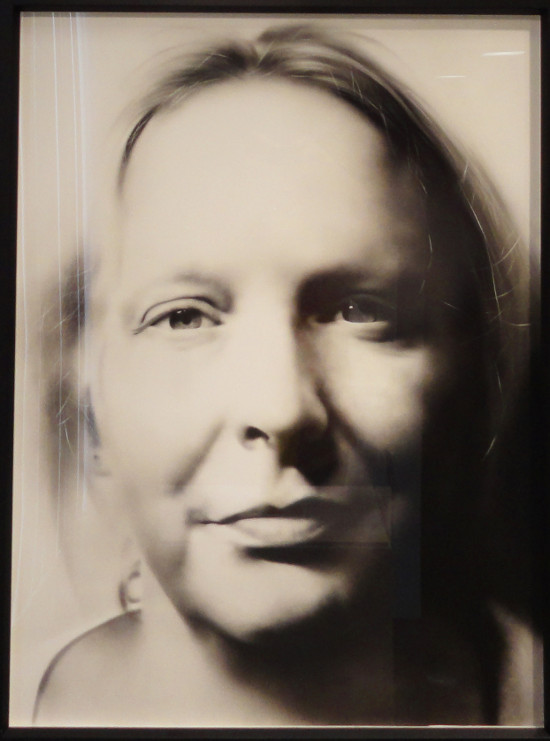 Mother, a pastel on paper by DeWitt, Iowa's Heidi McFall, is a portrait of a middle-aged woman looking straight at the viewer, her face filling most of the approximately four-foot-tall page. She has a slight smile, exuding a sense of youth despite her age.
McFall's level of realism is impressive, appearing as a photo at even close inspection. The use of heavy darks on the right side of the face adds to a feeling of three-dimensionality and breaks up the symmetry of the composition. Her choice of reference was also effective - a simple yet relatable portrait of a mother.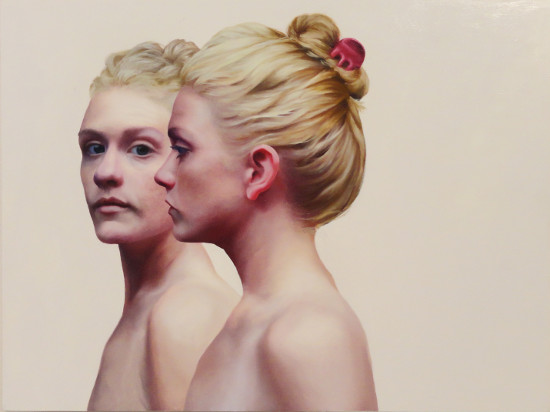 Another technically impressive work of realism is Revelations, an oil on panel by Galena, Illinois' Jessie Rebik. This work is also photo-realistic, although smaller in size, around 18 by 24 inches. It, too, is a portrait, yet Rebik has added a layer of emotional depth.
On an entirely flat white background is a profile of a blonde woman, shown from the sternum up. The composition implies that she is nude, with no clothes visible, and her hair is swept up into a simple bun held with a clip. We see the same woman, repeated just to the left, but looking at the viewer with a blank expression.
The composition is simple, with an unadorned and emotionless subject, yet Rebik has infused it with vulnerability. The light values, stark setting, and double woman seem more like a dreamscape than literal space. This subtly odd composition contradicts the hyper-realistic painting style, suggesting a conceptual narrative. The woman seems to invite the viewers to consider themselves from the outside, as she appears to be doing with herself.
There are also strong works in a style of softer, more painterly realism. DeKalb, Illinois' Samantha Haring applies this approach to her alley cityscape Inaccessible Pathways (Triptych), painted in oil on canvas and the winner of an honorable mention. This set of three related paintings features the early-20th Century downtown architecture familiar to Midwesterners. Instead of the decorated facades, however, Haring chose the unceremonious back doors and alleyways, complete with dumpsters and latticed power lines.
These images appear captured at sunset, with intense warm highlights and hard-edged, long shadows. There are no pedestrians in any of these scenes, and they appear sanitized, clear of the trash, puddles, and graffiti one would expect. Haring's wet-on-wet application of paint, rather than thinly glazed layers, unifies many of the textures, giving everything a simplified appearance. The emotional effect is lonely, showing a lifeless downtown.
Other artists used a more abstract approach to effectively convey meaning. It's strong work, but not as striking as the show's standouts.
Peoria, Illinois' Mary Beth Koszut earned second prize with her oil and graphite on panel titled Growing Roots. It's abstract yet strongly references our internal anatomy of blood vessels, organs, and bone. The background is blank white, subtly textured with gray brush strokes and scratched-in lines.
The "subject" appears to be a vaguely human-shaped mass of tissues, with the suggestion of vertebrae starting in the top right. Our eyes move down and to the left, following a thick, blue form, resembling a vein. Following the path of the "vein," we see a mass of forms indicating a head, then arrive at a focal point of two circular shapes in the center - one red, one blue. Pink looping forms stack below them, suggesting intestine, and lead our eyes out the bottom left of the form.
Koszut has applied paint thickly, and included drips and scratches, lending the work a spontaneous feel. Growing Roots is faintly gross (through the disembodied anatomy) but beautiful with her unsaturated, light color palette, juicy textures, and clear visual path. Identifying the "parts" of the painting adds interest to accompany the visceral appeal.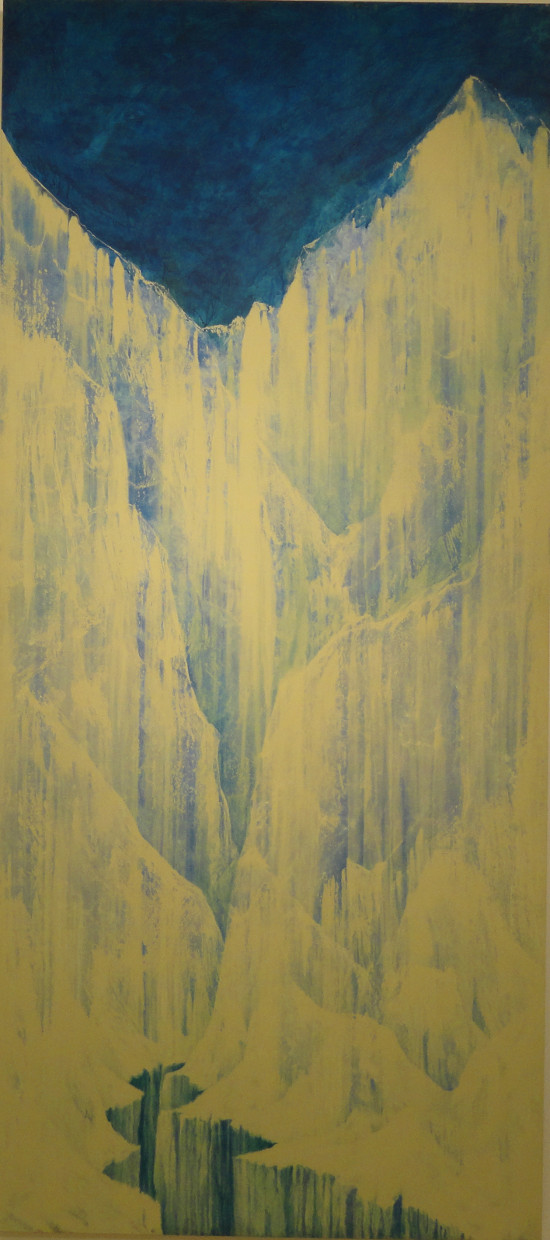 Texture also plays an important role in the abstracted glacial landscape Dominion, by Jeff Tady of Rock Island. This acrylic painting on panel employs a strongly vertical format, roughly five feet tall and two feet across. This treatment is fitting for the subject - an icy, mountainous wall, with blue sky peeking out behind the peaks. Adding to the feeling of overwhelming height is a large crevasse painted low in the composition, implying an even larger distance from apex to bottom. Tady has added a subtly green hue to this component, making it stand apart from the pure blue of the sky, and the light blue tints of the glacial shadows. His process makes frequent use of dry brush, drips, and slight splatters, giving this immovable object a sense of fragility.
The Rock Island Fine Arts Exhibition runs through April 22 in the Augustana College Art Museum, inside Centennial Hall at the northwest corner of the intersection of Seventh Avenue and 38th Street in Rock Island.
Michelle Garrison is a mixed-media artist who teaches art and design at Geneseo Middle School. She can be reached at michelle_m_garrison@hotmail.com.