To enter Oakdale Memorial Gardens, at 2501 Eastern Avenue in Davenport, one passes through twin stone pillars that stand 12 feet tall. The Art Nouveau side gates, made of patterned iron bars and a metal plate with an oak-leaf design at its center, are both beautiful and imposing, solemnly announcing the dignified purpose of the site within. Passing between the center pillars, we feel we're leaving the commonplace behind.
Through this passage - constructed circa 1897 - is a refuge from the fast-paced world. Arranged on the park-like expanse of lawn that stretches over acres of gently rolling hills, with massive oak trees and flowering gardens, are thousands of graves - and also many sculptures .
Oakdale, Chippiannock Cemetery in Rock Island, Riverside Cemetery in Moline, and the Mount Calvary and Pine Hill cemeteries in Davenport were the first garden cemeteries in the Quad Cities. Established in the 1850s, they also served as the first public parks in the area, providing a place for the general public to enjoy magnificent sculptures and garden settings previously available only to the wealthy.
(Our botanical parks weren't developed until some three decades later, such as Vander Veer Botanical Park in Davenport in 1885; it was among the first botanical gardens west of the Mississippi.)
The cemetery sculptures in this article were selected, in part, because of the artists' skill but - more importantly - for the artworks' capacity to communicate concepts and emotions. These works are examples of what funerary art can accomplish within a clearly circumscribed purpose - to help the living celebrate, remember, and mourn the dead.
For the most part, these sculptures are not creative, personal expressions of the artist. Yet they are not uniform in the feelings they convey. Some are comforting; others are stark reminders that life is brief. Some are massive and exotic, others humble and typical but no less evocative.
Visit these cemeteries to see the artworks for yourself, and to discover myriad others. You will find them more impressive, more varied, and more alive than these words express.
Cable monument, Chippiannock Cemetery
The Cable monument in Chippiannock Cemetery (at 2901 12th Street in Rock Island) is clearly meant to impress. Its commanding location on a hill within a ring of stone, its dramatic figure, its raised sarcophagus, and its relatively dark coloration make it impossible to overlook. Purchased in France in 1891, the monument was created by Belgian sculptor Paul de Vigne (1843-1901).
The monument is composed of a grieving woman pressed against a base that supports an ornate casket. A shroud covers her head, wraps around her waist, and trails behind her. Her right hand holds a palm leaf that symbolizes eternal peace or spiritual victory. The Latin word "Resurgam" is centered on the side of the base opposite the woman. The word's meaning, "I will rise again," and the palm leaf express a belief in an afterlife.
Yet the visual impact of the artwork is the separation of the dead from the living. It is this stark contrast of the young, emotional - even sensual - woman below and the austere casket just out of reach that leaves a deep impression. Visually, the monument is a reminder of the inevitability of death (a memento mori), a funerary theme in art that originated in ancient Rome.
Robert Alexander memorial, Davenport Memorial Park
A bronze sculpture of a World War II pilot stands atop the Robert Alexander memorial in Davenport Memorial Park (1022 East 39th Street). The figure stands casually, holding a cigarette while looking upward, scanning the skies.
The sculpture is somewhat diminutive - just a little over four feet tall. However, its placement on a pedestal and a rising hill compels us to also look upward, giving the work a heroic, even spiritual, quality even though there are no overt religious symbols or references.
Lieutenant Alexander, a Marine fighter pilot, died when his plane was shot down in 1943 over the Solomon Islands. He was initially buried at the crash site in a shallow grave with his name painted on a propeller blade set up as a headstone. His remains were later brought to Davenport, where he was reburied about 40 feet south of the memorial.
The sculpture was created in 1945 by Florence Gray, a Chicago artist who was a student of Lorado Taft, one of America's preeminent traditional sculptors.
Bush grave, Mount Calvary Cemetery
Untitled family sculpture, Pine Hill Cemetery Cremation Garden
The majority of the cemetery sculptures in the area are lone figures gazing toward a grave or, in the case of the Alexander memorial, looking toward the sky and, thus, heaven. Two life-sized metal sculptures, however, depict a young family grouped together, nearly forming a single shape.
The mother, father, and child - Mary, Joseph and Jesus - in the sculpture atop the Bush monument in Mount Calvary Cemetery (803 East 39th Street in Davenport) gaze at each other. They are very much self-contained: The sweeping lines in their robes and gestures visually hold them together. This is especially apparent when the sculpture is seen from the back. The piece was created by Italy's Art Studio Demetz.
The sculpture of a family by Donna Marihart (1932-2004) - in the Cremation Garden at Pine Hill Cemetery (1530 East 39th Street in Davenport) - is also composed so that the family virtually forms a single shape. The surface of welding sheets of copper also pulls the individuals together visually. The father affectionately rests his hands on the shoulders of a young girl who holds a small bird. Behind them - literally back-to-back with the father and daughter - is a mother who carries a baby.
Tellingly, none of their gazes meet. And although the family stands together, by facing different directions they are divided - most likely by death. In this reading, the bird perhaps symbolizes the girl's remembrance of family members who are gone.
Marihart's artwork communicates a sense of loss, while the sculpture of Mary, Joseph, and Jesus feels centered and whole; conveying a representation of comfort derived through faith.
Harte cenotaph, Chippiannock Cemetery
The eight-foot-tall Harte cenotaph is a Celtic cross with an elaborately patterned surface that incorporates Christian and pagan symbols. The stone cross was commissioned in 1905 to honor William Hickman Harte, a naval officer who died in battle during the Civil War. As his body was not recovered, the stone cross is a cenotaph.
The cross was created by Alexander Stirling Calder (1870-1945), an American artist whose work included the Swann Memorial Fountain in Philadelphia and a sculpture of George Washington on the Washington Square Arch in New York.
Calder was one of the first American sculptors to place emphasis on the decorative qualities of his art. The abstract linear patterns and spacing on the cross are reminiscent of Frank Lloyd Wright's leaded-glass designs created in the same decade. However, Wright's designs are purely geometric; Calder's cross has numerous symbolic images.
The carved images and patterns on the cross surface integrate Christian symbols - such as three lighted candles and shamrocks to represent the Trinity - with Celtic designs. This combination is consistent with the symbolism of the Celtic cross itself, which overlays the Christian crucifix on a circular sun symbol from ancient Ireland. The images of a ship and an anchor relate to Harte's naval service, but - when seen in conjunction with the Christian symbols - they could also represent a safe journey for the departed soul.
Other images, however, reference ancient Roman (fasces) and Egyptian (eye of Wedjet) symbols or have obscure meaning. Although these symbols work most successfully as decorative elements, their unusualness also creates a sense of mystery, reminding us that death is indecipherable.
Joseph W. Bettendorf mausoleum, Oakdale Memorial Gardens
The Joseph W. Bettendorf mausoleum at Oakdale is essentially an Egyptian tomb. Its entrance is flanked by Egyptian-styled pillars incised with ankhs, scarabs, and palm plants - ancient symbols of life and immortality. Overhead are two winged solar disks: a sphere centered between symmetrical spread wings and snakes.
Ancient-Egyptian symbolism is present in cemeteries largely because of the culture's belief in the afterlife. The discovery of King Tut's tomb in 1923 was the same year that the building of the Bettendorf mausoleum began.
Other Egyptian architectural forms, such as the obelisk - a tall, four-sided tapered monument topped by a pyramid-like shape - are present throughout our cemeteries. An actual stone pyramid is the John and Mary Volk grave marker in Chippiannock.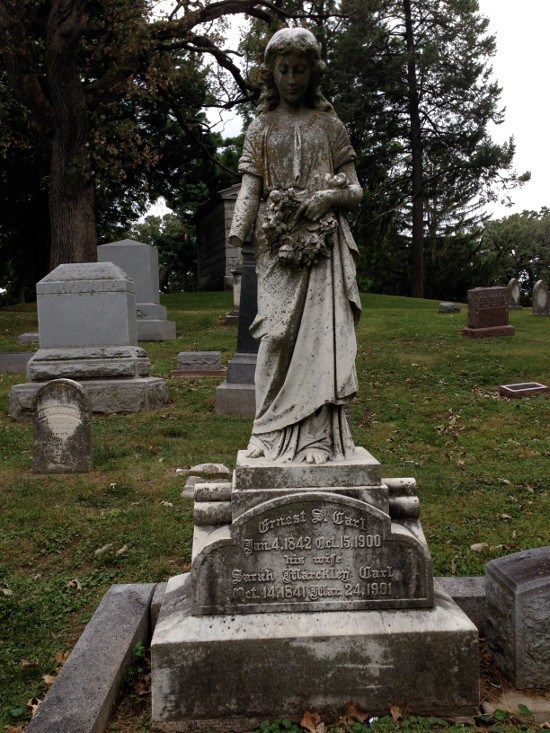 Carl grave, Oakdale Memorial Gardens
The desire for immortality - to be impervious to the passage of time - is also expressed in the angelic figure in faithful vigil over the Carl family gravestone, dating to roughly 1900.
Through the passing years, the wreath of flowers she holds is still in bloom. Her face is still lighted with a solemn, meditative expression. Carved in stone, her watch is uninterrupted.
She and the other youthful figures in stone are typical, rather than exceptional, cemetery sculptures. Yet they are perhaps the most perfect embodiment of the gentle spirit of the garden cemetery - a beautiful place intended for reflection, not deep grief.
Having now stood for more than a century - longer than all but a few of us live - the stone surface is lichen-covered, and one arm is missing. The youthful figure and the brief life of the flowers she holds serve as gentle reminders that life is fleeting. The accumulated aging and damage have only accentuated this.
Child and lamb, Davenport City Cemetery
Most graves are far more modest than the artworks presented in this article, and a large number of them are located outside the beautiful and manicured garden cemeteries in the area. According to some genealogical sources, Rock Island County alone has more than 88 burial sites, ranging in size from several stones in a country cemetery to the Rock Island National Cemetery on Arsenal Island, with approximately 29,000 burials.
Some of the burial sites, such as the Davenport City Cemetery at 1625 Rockingham Road, have suffered from years of neglect and vandalism. Many of the grave markers are either broken or so worn that they are unreadable. One is a carving in marble of a small child and lamb (or dog?); we can barely make out their features. In many ways, these poorly maintained gravestones and sculptures are more genuinely poignant than the grand, towering monuments.
But their dilapidation drives home another value of the garden cemeteries: how they preserve an irreplaceable connection with our community's past.
Bruce Walters is a professor of art at Western Illinois University.
This is part of an occasional series on the history of public art in the Quad Cities. If there's a piece of public art that you'd like to learn more about, e-mail the location and a brief description to BD-Walters@wiu.edu.