The entrance to the Freight House Farmers Market - at 421 West River Drive in downtown Davenport - is framed by a 15-foot-tall arched entry. The artist, Eric Mart, also created the gateway to his studio and the Sol-Iron Gallery at 620 West Third Street, just a few blocks away. Although both entires are made entirely of metal and are similar in size, one is welcoming while the other is intimidating. Their impact is shaped, in large part, by their settings and our associations with the objects used.
The brightly painted, freestanding entrance to the Freight House Farmers Market is flanked by a variety of flowering plants. It feels friendly and open. The handmade, cutout letters are playful. In this good-natured context, the tines of the pitchfork at the top of the arch seem to reach upward, almost like the rays of a rising sun. The vintage rotary hoes seem like pinwheels and flowers. Although the archway serves as a business sign, it is also a striking sculptural form.
The use of actual tools and farm implements effectively conveys a sense of authenticity. Although they're used decoratively, one can also sense the artist's respect for these tools in their placement along the span of the arch overhead. The unique sign communicates that this is a one-of-a kind business, not a franchise or large corporation.
The other entrance is in a distinctively different environment. Mart's studio and gallery is situated between an empty lot and a tattoo parlor. The three-story brick building is fronted with an entrance and fence made from remnant steel plates that rise 12 feet from the sidewalk's edge. The height of the entrance and fence is itself foreboding. And while the entrance to the farmers market is always open, this one is barred with a reclaimed jail door with rusted bands of riveted metal.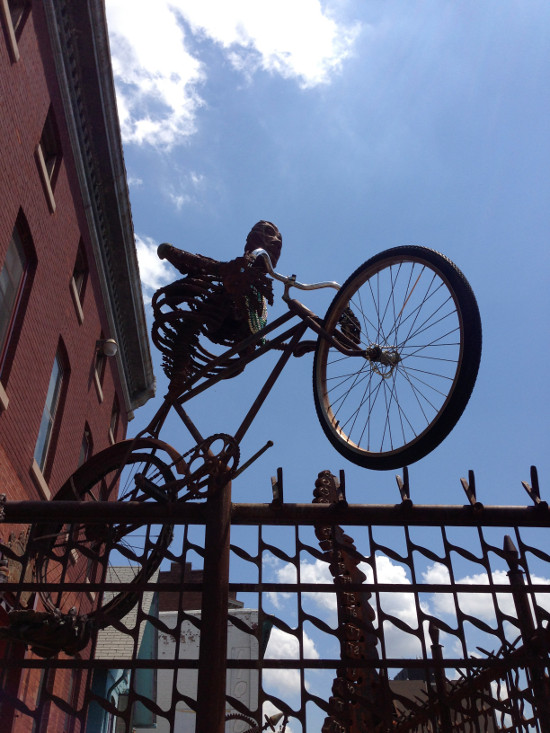 At the west end of the fence - facing the one-way traffic on Third Street - is an iron sculpture of a partial skeleton figure riding a bicycle. The sculpture, titled Greatest Human Cylindrical Machine, seems to defy gravity, as it appears to be frozen in a daredevil jump over the fence above our heads. Other powerful sculptural forms made from large iron gears and shafts - their precise machined edges contrasting with raw, rusted surfaces - can be partially seen through the fence openings. (Viewed from the street, the studio is like the last refuge in a zombie film.)
Mart's sculptures exude strength, drawn in part from the material he has chosen to works with: iron. His passion for metalwork and welding began at the age of 10 when his father handed him a welding torch. His development as an artist working in metals began with a challenge - to make a welding bead look like a roll of dimes - by an instructor in Yokosuka, Japan, while Mart was enlisted in the Navy. Working at Alter Metal Recycling has given him access to an almost unlimited source of materials for his artworks.
Mart has effectively worked with - not against - each environment. Although they communicate strikingly different messages, both entrances compellingly reflect their surroundings.
Bruce Walters is a professor of art at Western Illinois University.
This is part of an occasional series on the history of public art in the Quad Cities. If there's a piece of public art that you'd like to learn more about, e-mail the location and a brief description to BD-Walters@wiu.edu.
Eric Mart can be reached at ericjmart@hotmail.com.