(Editor's note: This is part of an occasional series on the history of public art in the Quad Cities.)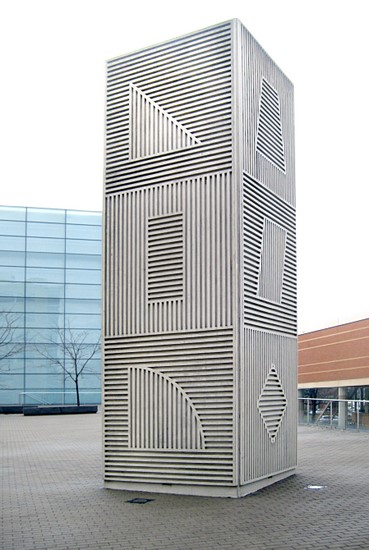 In 1984, a site-specific sculpture by the internationally renowned artist Sol LeWitt (1928-2007) was installed near the south entrance of the RiverCenter on Third Street in Davenport. Titled simply Tower, this sculpture was made of four 21-foot-tall slabs of concrete bolted to a framework of steel I-beams. These slabs, made of crushed marble and silica, were cast using more than a half-mile of Styrofoam strips.
Additional works by LeWitt, Wall Drawing #405 and Two Wall Drawings, were also installed in the center's atrium at this time. Longtime LeWitt assistant Anthony Sansotta worked with area art students to make these 18-foot-long drawings. In all, roughly 30 Quad Citians helped with the installations - including art students, plasterers, carpenters, painters, cement finishers, laborers, iron workers, crane operators, truck drivers, and electricians.
Don't look for these works at the RiverCenter, however. Tower was moved to the Figge Art Museum's plaza in October 2004. The original wall drawings were removed from the RiverCenter, and Wall Drawing #405 was redrawn inside the Figge at the top of the stairway leading to the second-floor galleries. LeWitt claimed this new drawing is not a re-creation but is still the original artwork. He regarded his wall drawings as impermanent and repeatable. And his work is intentionally unemotional.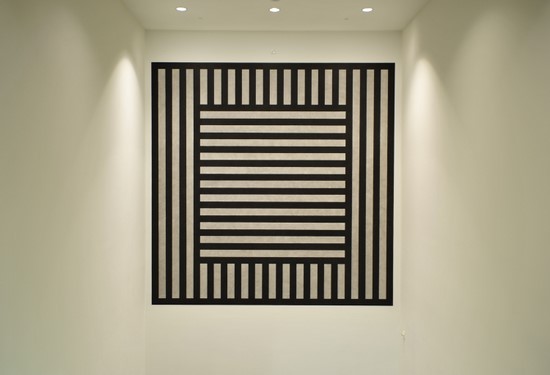 These works are striking - even aesthetically beautiful - objects. Yet also problematic. If instructions are given to an assistant working with students, who is the artist? LeWitt likened his wall drawings to the plans of an architect, reminding us that we don't require the architect to lay the bricks.
But that comparison doesn't satisfactorily answer all the questions raised by these works. Is "talent" or drawing skill irrelevant? Can the re-drawn Wall Drawing #405 truly be the original artwork? If Tower has no narrative and isn't meant to generate an emotional reaction, how are we to respond to it?
In many ways, any work that prompts such questions - that challenges us, that forces us to rethink basic conceptions - is certainly art. Maybe even great art. In this digital age with new considerations of appropriation, duplication of digital images that are truly indistinguishable from the original, and tools that make drawing skills a moot point, such questioning becomes even more pertinent.
Though the sculpture and drawings relate to the architectural forms of the RiverCenter, the present location of the Tower and the wall drawing is a clear improvement over their original site. The sculpture no longer seems crowded by surrounding buildings, and the view of the interior drawing is outstanding. The minimalist exterior and interior of the Figge work beautifully with both pieces. And, importantly, they still make us think.
Bruce Walters is a professor of art at Western Illinois University.